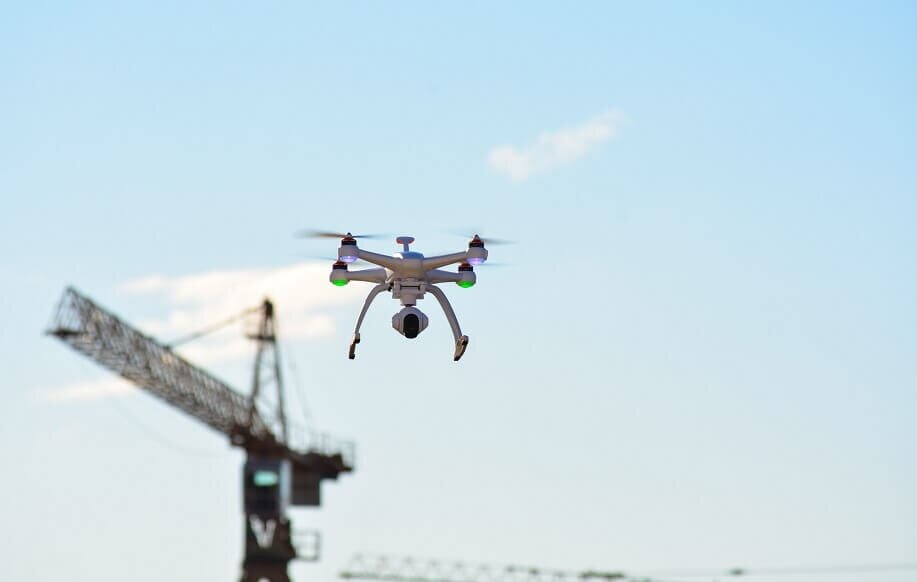 In industries such as construction, inspection and mining, it is not uncommon for workers to face serious injury – or even death – daily. According to the Occupational Safety and Health Administration (OSHA), 4,836 workers were killed on the job in 2015. On average, that means more than 90 people lost their lives each week on jobsites, or approximately 13 deaths occurred every day.
In addition, workplace injuries and illnesses cost employers in the U.S. almost $1 billion per week in worker's compensation costs alone. These estimates don't include the additional costs that result from lost productivity, staffing replacements and repairs to damaged equipment.
Seeking better ways to inspect jobsites and identify potential hazards before they become dangerous, many companies are increasingly turning to drones and drone mapping to improve overall safety for their workers.
Reducing the Need to Walk in Dangerous Areas
As any site manager is all too aware, most industrial accidents are the result not of falling debris or malfunctioning equipment, but of slips, trips and falls. In fact, falls are the leading cause of death on industrial jobsites and were responsible for 800 OSHA-reported fatalities in 2015. By allowing crews to perform remote inspections with real-time information, drone mapping reduces the need to put boots on the ground in potentially dangerous areas.
One company that is leading the charge to improve worker safety with the use of drones is Rogers-O'Brien Construction. "For roofing inspections now, we can go out and fly the drones and get the quality imagery that we need," says Blake Potts, senior virtual design and construction specialist at Rogers-O'Brien Construction. "We're really minimizing the time we've spent inspecting these roofs and putting personnel at risk."
Roof inspections can be very dangerous, as workers are often required to walk atop buildings at extreme heights to check for cracks, leaks and any other potential damage that could require repair. Drones and drone software make it easy to automatically capture aerial imagery for mapping to make measurements and analyze roofs to identify issues in need of fixing – all without ever having to step foot on rooftops. For companies like Roger's-O'Brien, this is having a major impact on jobsite safety by ensuring that workers remain on the ground and out of harm's way unless roof repair is necessary.
Tracking Progress and Forecasting Potential Jobsite Risks
Early identification of safety concerns on jobsites helps minimize safety risks and enables managers to contain environmental hazards before they become costly and dangerous. Project and site managers around the country are putting drones in the air and mapping worksites weekly instead of conducting traditional site inspections on foot. By reducing the time it takes to physically walk sites to inspect earthwork, drainage dikes and other areas of concern for safety, managers can generate real-time site maps more often and with greater detail. Armed with better, more timely information, they can proactively monitor sites and forecast potential issues before disaster strikes.
Making Field Inspection Safer and More Efficient
Construction isn't the only industry to see innovation and increased safety from the use of commercial drones. Another profession that faces a high risk of injury or death from slips and falls is field inspection. From bridges to power lines to cell towers, field inspectors are often required to scale large structures to visually inspect for potential damage in need of repair.
Drones are improving field inspections by making them safer while also making the inspection workflow twice as efficient.
"Everything's about safety in our industry," says Chris Bartlett of ReconnTECH, the technology solutions branch of major field inspection company USIC.
He uses drone mapping to help clients remotely inspect elevated water and cell towers. "Introducing drones increases safety in the workforce by giving our customers tools to perform inspections in a safer manner," he says.
By using drones to visually inspect structures, Bartlett and his team are no longer required to put workers in the air unless they spot issues by using the drone's high-resolution camera. This greatly improves productivity in the field because workers no longer need to scale every structure for inspection – allowing them to move more quickly and increase the rate of inspection.
"By using drones … we have increased our field productivity by 50-75 percent," says Bartlett.
Once problems are spotted, inspectors can take aerial images and assess how to safely address the situation should repair be required, dramatically reducing the chance of falls – or fatalities – occurring on the job.
Helping Companies Put Worker Safety First
As drone mapping continues to be adopted across a variety of industries, we can expect to see OSHA figures surrounding jobsite fatalities to plummet. The latest drone models available for manufacturers like DJI, senseFly and Aeryon are well suited for commercial applications on jobsites, and the software available for drone mapping has come a long way in the past few years, opening endless possibilities for improvement to safety and efficiency. Drone data is now being used in almost every country by tens of thousands of professionals in dozens of major industries to make more informed business decisions and increase return on investment.
Companies that are serious about reducing worksite hazards should actively be considering the use of drones and drone mapping software. By keeping workers out of harm's way, drone mapping can ensure companies small and large alike focus on safety first. Drone mapping is an innovative and cost-efficient way to capture information from dangerous areas without the need to put personnel into compromising situations to complete their jobs.
Mike Winn is CEO and co-founder of DroneDeploy, a cloud-based drone data platform that provides automated flight, real-time mapping, and data processing and analysis.