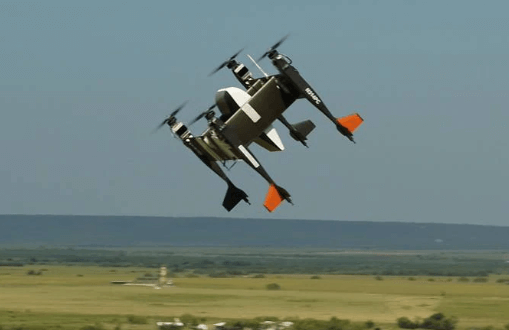 Bell Textron Inc., a Textron Inc. company, has announced the first successful autonomous flight of its APT 70, a vertical takeoff and landing (VTOL), multi-rotor drone.
The testing took place at a site near Fort Worth, Texas. The APT 70 is able to reach speeds of more than 100 mph and has a baseline payload capability of 70 lbs. With a 70-lb. payload, the company estimates a one-way flight time of 30 minutes over a distance of 35 miles.
Bell says its autonomous pod transport (APT) family of systems is capable of twice the speed and range of a conventional multi-rotor drone. The aircraft are designed for rapid deployment, quick reconfiguration, and nimble battery swap and recharge.
Bell plans to continue to test the APT 70 under an experimental type certificate throughout the remainder of the year.
"We are excited to reach this milestone and look forward to continuing to advance this technology for our customers," says Scott Drennan, vice president of innovation. "The APT is designed to be capable of various mission sets, from package delivery to critical medical transport to disaster relief. We believe this capability will change the way unmanned aerial systems are used commercially in the future."
Through the NASA Systems Integration and Operationalization initiative, Bell will use the APT 70 to demonstrate a simulated commercial mission in national airspace and conduct beyond visual line of sight flight operations. The demo is expected to be held in mid-2020.
Bell is also in collaboration with Yamato, a Japanese third-party logistics provider, to integrate Yamato's package handling system into APT 70. The Bell and Yamato team conducted a demonstration this week to showcase their systems in preparation for entry into service, anticipated by the early 2020s.