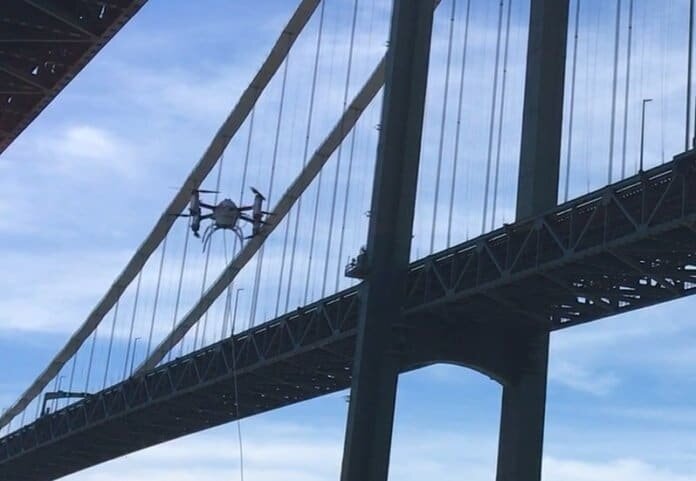 Using a drone that can both fly and swim, a team comprising the Delaware River Bay Authority (DRBA), Rutgers University-New Brunswick (RU-NB) in New Jersey and SubUAS LLC recently executed what it calls the first combination aerial and underwater bridge inspection.
According to a press release from the DRBA, the group conducted the operation on June 18 at the Delaware Memorial Bridge Twin Spans.
The hybrid unmanned vehicle, known as the Naviator, was developed at the Rutgers School of Engineering with Office of Naval Research (ONR) funding. The Naviator was also used to conduct demonstration air/water flights from a 100-passenger car ferry vessel at the Cape May Ferry Terminal on June 19-20.
"We're pleased to be able to participate in this test demonstration," says Thomas J. Cook, executive director of the DRBA, a bi-state governmental agency for Delaware and New Jersey. "Our infrastructure assets are subject to rigorous inspection programs on an annual basis, and drones have the potential to make these inspections significantly safer and more cost-efficient. The ability to have a single autonomous vehicle inspect piers or vessels both above and below the water line is no longer science fiction."
Researchers in the Department of Mechanical and Aerospace Engineering at RU-NB – under the direction F. Javier Diez, a professor at the School of Engineering – developed the Naviator prototype in 2013. What followed have been technologic advancements to its propulsion, buoyancy and control systems.
SubUAS LLC was founded in 2016 to commercialize Rutgers' drone development. The company has an exclusive license for the commercial/military development of the university's patented air/water drone technology.
"The Naviator's ability to seamlessly and rapidly transition from flying in the air to maneuvering underwater provides tremendous opportunities for a number of industries and naval operations," says Diez. "As these recent tests demonstrated, what previously might require a helicopter, boat and underwater equipment, the Naviator was able to complete as a single deployment with fewer complications and in less time."
Rutgers Center for Advanced Infrastructure and Transportation (CAIT) has been supporting Naviator's development. Notably, Rutgers School of Engineering is certified as a Federal Aviation Administration unmanned aircraft systems testing facility.
With continued interest and funding from government and corporate partners, the Naviator research team continues to develop further enhancements valuable for not only bridge inspections but also for ocean floor mapping, search and rescue operations, critical infrastructure monitoring, harbor security and more.
"The Naviator drone's ability to repeatedly transition from water to air in less than two seconds has opened up novel markets that will find these capabilities advantageous," notes Mark Contarino, vice president of technology at SubUAS LLC. "Our long-term partnership with Rutgers, DRBA and our sponsor, ONR, continues to provide invaluable insight into future enhancements and applications of this amazing technology."
Additional support for the air/water drone inspection was provided by numerous DRBA bridge and ferry employees, as well as Rutgers' CAIT and Center for Ocean Observing Leadership, notes the DRBA.