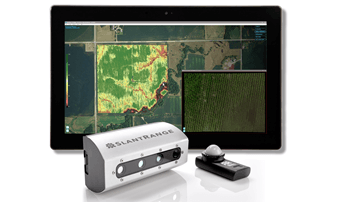 SLANTRANGE Inc., a provider of drone-based remote sensing and analytics systems for agriculture, has announced the availability of its new 3p multispectral sensor system and SlantView analytics software.
Introduced earlier this month, the 3p, built on the Qualcomm Snapdragon Flight drone platform, is available with a variety of processing options to meet the needs of different users – e.g., academic researchers, small farmers or global enterprise customers. Immediately after a drone flight, the 3p sensor harnesses the Snapdragon Flight to provide quantitative metrics about the status, health and yield potential of crops.
"We're very excited to bring our new 3p sensor and SlantView analytics to market at this critical time of the North American growing season," says Michael Ritter, CEO of SLANTRANGE. "Our technology is designed to bring unique value to growers and agronomists from emergence to harvest, and we look forward to seeing all of our new and existing customers put it to work in the fields."
The 3p also incorporates SLANTRANGE's patented technique for delivering accurate crop measurements under changing sunlight conditions – a critical prerequisite for trend analysis and yield forecasting, the company says.
SlantView is a software analytics platform designed to deliver a new approach to crop measurement and analysis, according to SLANTRANGE. Tightly coupled with the 3p sensor architecture, SlantView provides valuable classes of information enabled by low-altitude imaging.
Three versions of the software are available:
SlantView Lite, a free version that enables processing of 3p data in third-party software tools;
SlantView Basic, which provides basic metrics about crop health, including vegetation stress and multiple NDVI indices. A free, 30-day trial of SlantView Basic is available with all 3p purchases; and
SlantView Pro, which adds powerful computer vision and machine-learning-based tools to deliver analytics, including vegetation stress, multiple NDVI indices, plant population density, plant size distributions, weed detection maps, vegetation fraction, yield potential, and user-defined information layers using Smart Detection.
"SlantView is already proven as an invaluable tool for agriculture drone service businesses with its powerful offline analytics and efficient workflows," adds Ritter. "The addition of new pricing and capability options will directly support our mission to scale our solutions across all of the world's agricultural acres."
The 3p and SlantView are now available through the SLANTRANGE online store or from any of SLANTRANGE's global distributors.