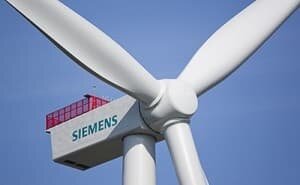 Siemens is collaborating with unmanned inspections company SkySpecs to deploy automated drone technology for both onshore and offshore wind turbine inspections.
The goal of the collaboration, according to the companies, is to develop a push-button inspection system that is faster, repeatable and more efficient than existing methods. Siemens is involving its wind power business and its next47 venture unit, which was established last October to accelerate the development of new technologies.
Ann Arbor, Mich.-based SkySpecs, founded in 2012, combines robotics, artificial intelligence and machine-based analytics to advance industrial drone inspections. Using proprietary software and off-the-shelf hardware, the company's goal is to provide an end-to-end solution that includes data collection, damage identification and classification, and recommendations.
Siemens says it is collaborating with SkySpecs to refine the technology for utility-scale wind turbine inspections and prepare it for commercial readiness. The joint effort will enable Siemens to incorporate more advanced preventive maintenance techniques using SkySpecs' technology. It will also provide data that can be used to inform customers about the lifespan of their assets or to gain insights into contributing causes of eventual failures, according to Siemens.
"Siemens Wind Power and SkySpecs can mutually benefit from this collaboration via next47 in sharing and co-developing technology and expertise," comments Ruediger Knauf, chief technology officer of Siemens Wind Power. "I am confident that we can bring blade inspection to the next level."
SkySpecs' blade inspections are automated from start to finish. The baseline solution allows drones to take off, capture high-resolution images of all four sides of each blade, and return and land in under 15 minutes. The captured data is uploaded to the cloud, where it can be analyzed, annotated and shared. In 2015, the company teamed with UpWind Solutions (which was later acquired by Vestas).
"Siemens Wind Power is motivated to improve turbine inspection technology, including data collection and analysis, and have provided us access to their deep resources and expertise," says Danny Ellis, CEO of SkySpecs. "Siemens has an incredibly impressive understanding of both the wind energy markets and autonomous technology, making our partnership a true win-win."