The Connecticut General Assembly's Public Safety and Security Committee has decided to essentially squash a bill that would have allowed police to equip unmanned aircraft systems (UAS) with weapons.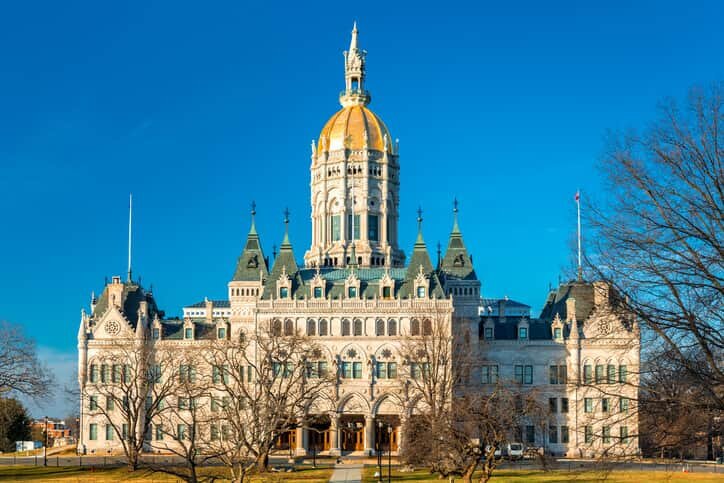 According to the bill history of H.B.7260, there was no action taken on the legislation on May 1 when it was sent to the Public Safety and Security Committee.
Speaking to the local Hartford Courant, Rep. Joe Verrengia, co-chairman of the committee, explained that the legislation is "dead for now" after the committee failed to come to a consensus because of "just so many questions" surrounding the bill. The report says the decision to take no action "essentially dooms it"; however, another proposal "could come up again before the legislature adjourns on June 7."
According to the American Civil Liberties Union (ACLU) of Connecticut, H.B.7260 originally addressed "privacy rights" but ended up including an amendment that would have allowed law enforcement to attach "lethal and less lethal" weapons to UAS.
The summary of the bill states as follows:
"This bill criminalizes the operation or use of unmanned aerial vehicles (commonly called drones) that are weaponized, except by law enforcement officers in certain circumstances while performing their duties. The bill makes operating a weaponized drone a class C felony, punishable by up to 10 years in prison, up to a $10,000 fine, or both; and violators must register with the deadly weapon offender registry."
David McGuire, executive director of the ACLU of Connecticut, says in a statement that the state legislature has now "sent a loud and clear message that Connecticut does not need and will not accept police equipping drones with weapons."
The bill was originally proposed in response to a Connecticut man's infamously showing the world his homemade, weaponized drone creations:
"On July 10, 2015, Austin Haughwout of Clinton posted a video on YouTube of a drone he had modified to remotely fire an attached handgun," the judiciary committee wrote. "This was followed by another video posted on December 7, 2015, showing a drone firing a flamethrower. These videos sparked national interest and were covered by a large number of news outlets. This resulted in ongoing investigations by state and federal authorities. The public interest in these events has concerned the risk drones pose if weaponized by a person with criminal intent."
The Hartford Courant notes that the ACLU of Connecticut did, however, support the original bill before the police weaponization amendment was added in "fairly late in the process" by the judiciary committee.
Specifically, the bill would have permitted law enforcement officers to deploy UAS, including those that are weaponized, if "a judge or judge trial referee has issued a warrant authorizing the drone's use; the individual, or property owner, who will be the subject of the information collected by the drone's operation has given advance written consent to the operation; the officer has probable cause to believe that a crime has been, is being, or will be committed and exigent circumstances make it unreasonable to obtain a warrant; or the drone is used (a) as part of law enforcement training activities conducted on state- or federal-owned or leased land that is not substantially populated or (b) to reconstruct or document a specific crime or accident scene."
Calling the likely defeat of the bill a "victory for public safety and civil rights," McGuire adds, "Connecticut does not need police wielding flying weapons in our towns and communities. Our state does need strong police accountability, transparency and oversight to build public trust in law enforcement." Bringing up the notion of "intrusive police drone spying," he notes that "key privacy concerns addressed by this underlying bill remain."
According to another local report from ctpost, Peter Sachs, a Connecticut attorney who personally wrote letters to members of the committee to ask them to oppose the legislation, brought up that the police weaponization amendment "would have placed law enforcement in the position of violating several federal aviation regulations."