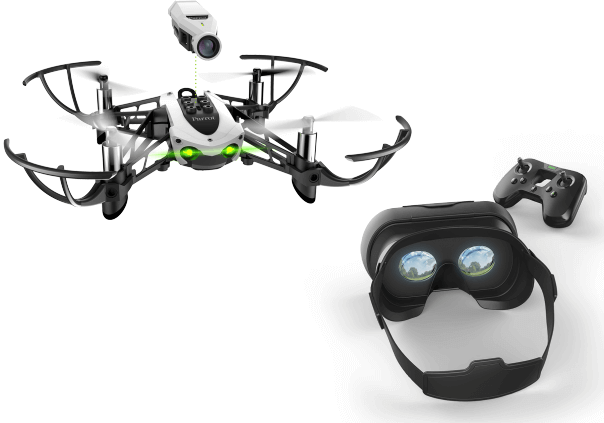 Parrot is rolled out a new minidrone suited for first-person-view (FPV) racing, the Parrot Mambo FPV.
The unmanned aerial vehicle (UAV) uses an FPV HD camera with a 120-degree field of view, Parrot Cockpitglasses 2 with a 96-degree field of view and the Parrot Flypad piloting controller. Suited for both indoor and outdoor flying, the drone offers a flight time of 10 minutes and delivers burst speeds of up to 30 km/h (approximately 18.6 mph), says Parrot.
According to the company, the easy-to-handle quadcopter comes with three piloting modes for all skillskets: easy, which uses assistance from the autopilot for horizontal and vertical stabilization; drift, through which horizontal stabilization is disconnected; and racing, through which the autopilot is completely disconnected, and all flight settings are in the hands of the pilot.
The UAV can be controlled via the FreeFlight Mini app for iOS or Android or through the Parrot Flypad controller. It has a range of 20 meters with the app and a range of 100 meters with the Flypad. The Mambo is available starting this month at Argos, Currys, Amazon.co.uk and parrot.com for 159 British pounds (approximately $216).
The drone is also available in Parrot Mambo Fly and Parrot Mambo Mission. Neither is offered with FPV accessories, but the Mambo Mission comes with the Parrot Flypad.
Recently, Tynker, a game-based platform that teaches kids how to code, teamed up with Parrot to create the Parrot Mambo Code bundle, offering a Parrot Mambo and a six-month premium subscription to Tynker.