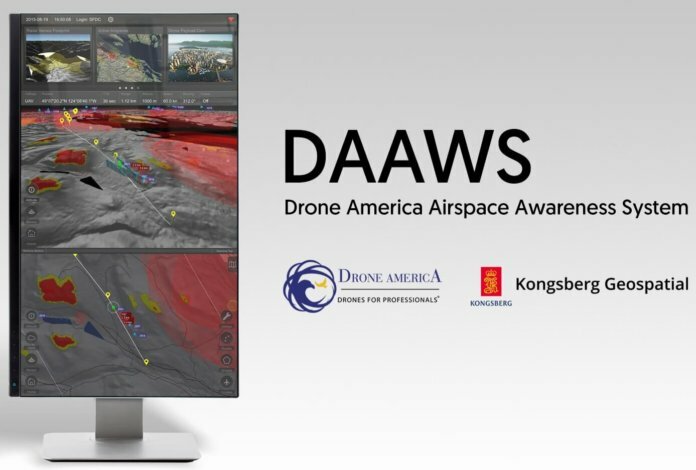 Kongsberg Geospatial, an Ottawa, Ontario-based developer of geospatial visualization software, and Drone America, a Reno, Nev.-based unmanned aircraft systems (UAS) developer, have announced a new technology integration in support of drone operations beyond the visual line of sight (BVLOS).
The partners have integrated the Kongsberg Geospatial IRIS UAS situational awareness application into Drone America's airspace and sensor awareness system (DAAWS).
Drone America specializes in designing and building long-range, autonomous, multi-mission drones with modular payloads for BVLOS flight operations. The company says it developed DAAWS as part of its advanced ground control station to give flight teams the ability to manage BVLOS operations safely and effectively.
Kongsberg Geospatial, which been providing technology for military unmanned platforms for over a decade, has developed a variety of sensor integration and display technologies to provide situational awareness for drone pilots operating BVLOS and for monitoring airspace for unmanned traffic management and counter-UAS operations.
According to the partners, the IRIS display technology enables multiple drones to be managed simultaneously by a single operator and provides real-time calculation of aircraft separation and communications line of sight to enable BVLOS operations. IRIS provides the operator with real-time 2D and 3D visualization of airspace data, as well as geofencing capabilities.
"Professional BVLOS unmanned flight operations require the very best in equipment and technology. Kongsberg Geospatial provides what we believe to be a game-changing solution, delivering smart situational awareness and, therefore, significantly improving safety," says Mike Richards, president and CEO of Drone America.