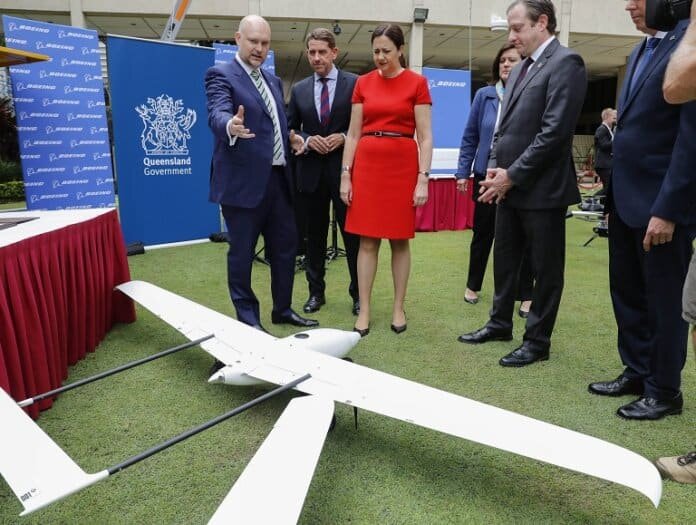 Australia will be home to Boeing's largest autonomous systems development program outside of the U.S. following a new partnership agreement with the Queensland Government.
Over the next three years, the rapid innovation program will see Boeing develop next-generation autonomous systems capability in Australia to increase the independent operation of air and sea vehicles, the company says.
In a previous collaboration, a broad-area unmanned aircraft system (UAS) situational awareness system developed by Boeing in partnership with Queensland businesses was exported to the U.S. in late 2017 and successfully completed its first flight test in Mississippi this past January.
Chris Raymond, Boeing's vice president and general manager of autonomous systems, says the new Queensland partnership forms part of Boeing's global growth strategy to accelerate autonomous technology for commercial and defense systems.
"As autonomy becomes increasingly common, Boeing will continue to pioneer autonomous technologies from seabed to space – setting a new standard for safe, successful missions that amplify human capabilities," states Raymond.
"Boeing will work with small- to medium-sized Queensland businesses to develop transformative 'brain-on-board' technology," says Shane Arnott, director of Boeing's Phantom Works International business in Australia. "Our program will complement the work undertaken by the Trusted Autonomous Systems Defence Cooperative Research Centre, taking research outcomes and developing them into exportable commercial products for the global autonomous market."
Equipped with technology from Queensland firms, the Albatross, an electric, fixed-wing drone made by U.S. unmanned aerial vehicle (UAV) manufacturer Applied Aeronautics, was on display at the recent signing of the new partnership.
"In addition to being affordable, the Albatross was designed to be an entirely customizable platform," says Ryan Johnston, CEO of Applied Aeronautics. "The Albatross' use by leading Australian companies is an excellent example of its ability to be tailored to the individual needs of the end-user. This adaptability allows for the development of a truly unique UAV solution for applications ranging from research and public safety to mining and agriculture. We're excited to see the Albatross used in this capacity in Queensland."