Insitu, a wholly owned subsidiary of The Boeing Co., recently deployed its rapid-response team to launch a ScanEagle unmanned aircraft system (UAS) above the Paradise Fire in Washington's Olympic National Park.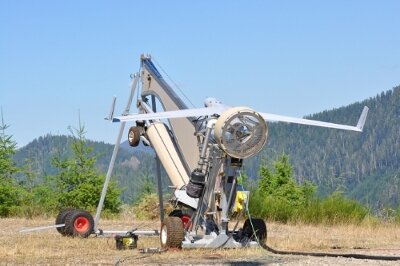 According to Insitu, the event marked the beginning of an operational demonstration designed to show how unmanned aircraft technology can be a powerful force multiplier in the fight against wildfires.
The ScanEagle flew six operations and delivered more than 37 hours of infrared video in real time to incident-command personnel. Insitu's suite of motion imagery software provided enhanced video and geo-registration capabilities, enabling fire officials to pinpoint the fire's perimeter and identify areas of intense heat. The ScanEagle also assisted helicopter assets with evaluating water drop locations.
Insitu flew within an emergency Certificate of Authorization issued to the Department of Interior (DOI) from the Federal Aviation Administration.
"This and other planned unmanned aircraft systems demonstrations will serve to guide our policies, procedures and requirements for the safe, phased integration of UAS in support of wildfire management," says Mark Bathrick, director of the DOI's office of aviation services. "These demonstrations are part of a larger, interagency strategy aimed at employing UAS to provide firefighters on the ground with time-sensitive information that will give them the highest level of situational awareness and support possible."