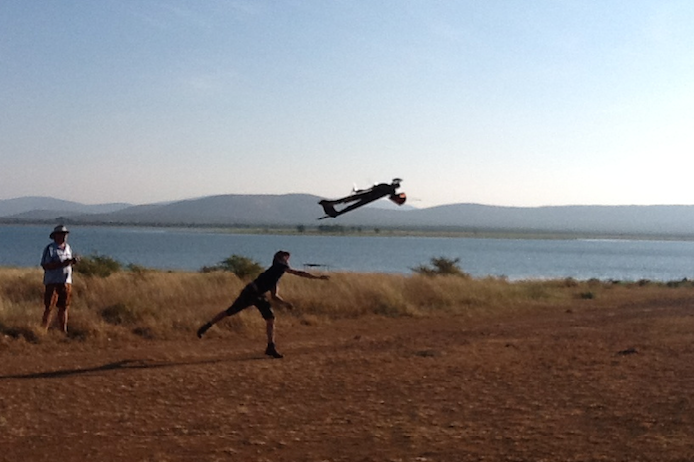 Phoenix-based Unmanned Vehicle University (UVU) says graduate Rob Hannaford's UAV and Drone Solutions (UDS), an organization that uses unmanned aerial vehicles (UAVs) to help local park officials combat rhino and elephant poaching, has successfully flown over 1,500 anti-poaching missions.
UDS, based in South Africa and first established in 2012, develops and integrates UAVs and all supporting sub-systems for a complete, unmanned, airborne solution.
According to UVU, in order to prepare for a career in UAVs, Hannaford first sought a formal education so that he would be properly educated and trained on the capabilities, applications and safety regulations surrounding drones.
After searching on Google, Hannaford found Unmanned Vehicle University and pursued a professional certificate in unmanned aircraft systems project management. After taking a 12-week UAV fundamentals course, Hannaford went on to take courses in UAV design and construction, in-flight training, flight test engineering, and remote sensing with UAVs.
Hannaford's business uses UAVs to monitor threatened animals in real time without using individual trackers. The aircraft are tough enough to withstand harsh elements in the African bush but also cheap to repair if need be.
"We are the operators responsible for deploying the UAVs in the bush and interpreting the incoming information for the people who need it," Hannaford explains. "Our UAVs are equipped with thermal imaging hi-res cameras that locate illegal poachers in the darkness from a great distance away."
In South Africa, the fight against rhino poaching is commonly referred to as a war. According to Hannaford, myths surrounding the supernatural powers of rhino horns run rampant in Chinese and Vietnamese villages – spawning groups to infiltrate designated reserve areas in pursuit of the goods.
"One rhino is shot every eight hours," he says. "We need to utilize cutting-edge technology to stop this rhino war that's waging on our land."
Park rangers, anti-poaching officials and UAV pilots park the monitoring vehicle, set up the technology in under 10 minutes, and deploy the UAV to patrol the expansive grounds.
Two stations, a sensor operator station and a flight operator station, are equipped with video monitors and control equipment. Anti-poaching units and section rangers work with the UAV operators to compare incoming data with their local knowledge of the terrain. If any poachers are detected in the area, the team deploys an anti-poaching group that results in their arrest – and, ultimately, saves the threatened animals.
Beyond his anti-poaching efforts, Hannaford is also developing UAVs for South Africa's commercial industry, with specific solutions designed for 3D mapping, photography, precision agriculture and more.
"I can't even begin to place the value that I have drawn from my education at Unmanned Vehicle University," he states. "I started UDS two-and-half years ago because of the knowledge that I gained during my formal education. My UVU credentials proved to the local authorities that I am educated enough to take on a project this important. I wouldn't be in this position without UVU."
The 100% online university says its goal is to educate and train the next generation of drone pilots, engineers and entrepreneurs seeking to build careers and businesses in the rapidly growing field. UVU's upcoming "UAV Fundamentals" seminars will be held this month in Las Vegas and Toronto.