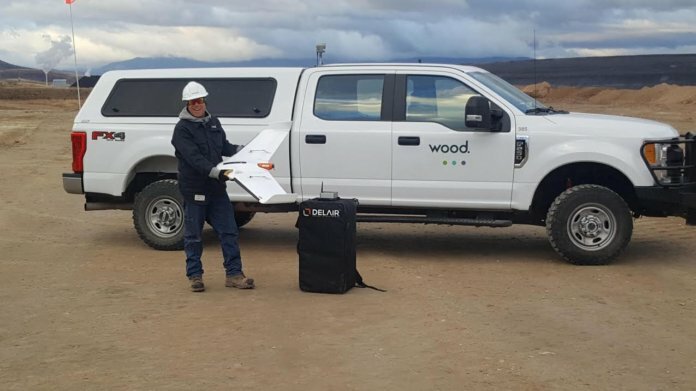 Global engineering services company Wood has adopted the Delair UX11 unmanned aerial vehicle (UAV) for its work in site planning and asset management for mining and quarry projects in the Western U.S.
Wood is initially deploying the drone for high-accuracy, 3D topographic surveys and materials quantification for mineral mining in Idaho and Wyoming.
"For the scale of the projects we are performing, and the accuracy required, adopting the Delair UX11 was a logical choice," says Greg Meinecke, technical services manager at Wood. "Its long-range capabilities allow us to cover areas not feasible with other data collection methods like hovercraft drones or by foot, so it reduces the cost and time involved. It integrates well with our existing workflows, and features such as the PPK function deliver additional benefits in terms of the precision and flexibility required in challenging environments."
Wood is deploying the UAV in remote areas, where teams are performing extensive excavation and site preparation for phosphate mining activities, a project covering more than 200 acres. Of critical importance for operations is an ability to precisely quantify the volume of materials being removed to ensure a high degree of accuracy in planning and invoicing.
Flying at 400 feet above the project areas and, at times, using beyond visual line of sight (BVLOS) flight plans, Wood technicians are able to use the precision data collection features of the Delair UX11 to acquire large amounts of imagery that can be processed to generate detailed topographical reports.
"We are able to get surveys covering large tracts of land done in a very short amount of time, so it ends up being much more cost-effective for us and the client," explains Meinecke. "More importantly, we can provide the mine owners a great deal of confidence in the accuracy of the work being performed and the quantities of resources involved."
Frontier Precision, a regional Delair reseller, worked alongside Wood's engineering and field team to evaluate the Delair drone and ensure it met the firm's requirements, including integration with other tools the firm uses, such as AutoCad, Trimble Business Center and the Pix4D photogrammetry suite.
Going forward, the firm expects to deploy the aircraft for other infrastructure, mining and construction projects around the U.S.
The Delair UX11 UAV was introduced commercially last year. The fixed-wing drone is a hardware-software platform that provides imagery for survey-grade mapping, with on-board processing capabilities and real-time, long-range control via 3G/4G cellular networks or radio links.