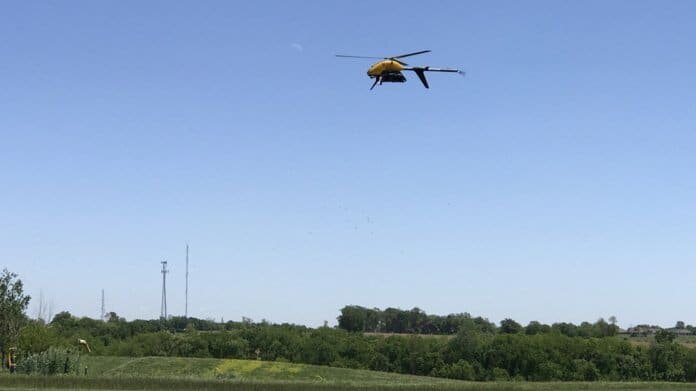 Rockwell Collins, working closely with Black & Veatch, has successfully demonstrated a beyond-visual-line-of-sight (BVLOS) unmanned aircraft systems (UAS) flight along almost 10 miles of power line infrastructure located near Newton, Ill.
Leveraging the experienced gained from their participation in the Federal Aviation Administration's (FAA) Pathfinder program with BNSF Railway, the companies applied a similar safety case to show that Rockwell Collins' CNPC-1000 Command and Control data link and webUAS operations management technology can be used in other industries with long linear operations, such as inspecting many miles of power lines.
The drone demonstration was conducted on infrastructure owned by Ameren Corp. and supported by safety observers from North Dakota's Northern Plains UAS Test Site and the University of Iowa's Operator Performance Laboratory. The CNPC-1000 Command and Control data link was integrated into a Pulse Aerospace Vapor 55 unmanned helicopter.
"Monitoring critical infrastructure, particularly those in rural areas beyond line of sight, can be done much more efficiently and effectively through the use of UAS technology," comments Ken Schreder, vice president of strategic programs/information management services at Rockwell Collins. "We've created a mobile BVLOS system with networked command and control capability, which enables us to demonstrate the benefits to infrastructure customers."
For this flight, Black & Veatch was responsible for engineering, design and procurement of the temporary network that enabled the CNPC-1000 radio connectivity. The company was also involved in a joint project management effort with Ameren to coordinate the various parties involved in the test flights.
Designated the CNPC-1000, the Rockwell Collins data link conforms to the industry-developed performance standard for command and control submitted to the FAA by the RTCA Special Committee 228 for commercial UAS operations in national airspace. Rockwell Collins, along with the FAA and NASA, has flown the CNPC-1000 on various aircraft. For this demonstration, the CNPC-1000 was adapted to support low-altitude BVLOS operations in support of critical infrastructure monitoring to a radio frequency spectrum beyond the frequencies cited by SC-228.
The webUAS is Rockwell Collins' operations management tool that coordinates the multi-node CNPC network; provides real-time situational awareness to critical flight information such as link quality; and acts as a gateway to weather, air traffic, and other critical information and services.
"This revolutionary asset management approach provides our clients great value by reducing their overall cost of ownership, improving type and frequency of data capture, and creating a safer work environment," says John Janchar, executive vice president of telecommunications for Black & Veatch.