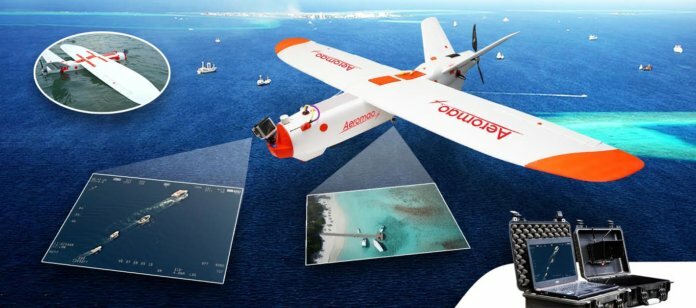 Two "amphibian" Aeromapper Talon drones were recently used during a set of trials for an expedition to Turneffe Atoll in Belize as part of work led by the Zoological Society of London and the Turneffe Atoll Sustainability Association.
The drones, built by Canada-based Aeromao, were used to detect and document illegal fishing activities in the marine protected area. The water-landing, fixed-wing, long-range, multi-camera drones were also trialed to monitor and survey marine megafauna (e.g., turtles, dolphins and sharks). The aircraft are able to fly for up to 1.5 hours.
The current enforcement strategy on the Turneffe Atoll involves conservation officers on small boats to scope out illegal fishers. Systematic surveys for megafauna aren't regularly carried out, so the conservation officers tend to document animals found during their patrol. However, boat fuel is costly, limiting the amount of area the officers can patrol. The drones, instead, proved to be a low-cost solution.
The drones were also operated 24 times beyond the visual line of sight (BVLOS). BVLOS flights were tested in a scenario where conservation officers wanted to scope out a development site several kilometers away across a large bay, for example. The amphibious drone was able to fly to the site of interest at 110 meters in altitude, gather intelligence and fly back quickly. The resulting images and video then highlighted illegal building work had been occurring.
More on the study can be found here.