The FlightWave Edge unmanned aircraft system (UAS) was recently part of a flotilla of autonomous underwater vehicles, autonomous surface vessels and UAS being used on the research ship R/V Falkor in the Pacific Ocean.
The mission took place approximately 1,000 miles west of Southern California in an area called the subtropical front. The goal was to establish a new method for observing dynamic ocean systems and processes with autonomous vehicles that maintain constant communication between themselves and a remote control center on the Falkor, explains FlightWave.
The principal investigator, João Tasso de Figueiredo Borges de Sousa of the Laboratório de Sistemas e Tecnologias Subaquáticas from Porto University in Portugal and his team led the effort, along with researchers from the Interdisciplinary Centre of Marine and Environmental Research, a research and training institution of the University of Porto in Portugal; the Technical University of Cartagena in Spain; the Norwegian University of Science and Technology in Norway; and U.S. researchers from Harvard, the University of Rhode Island and Lamond-Doherty Observatory.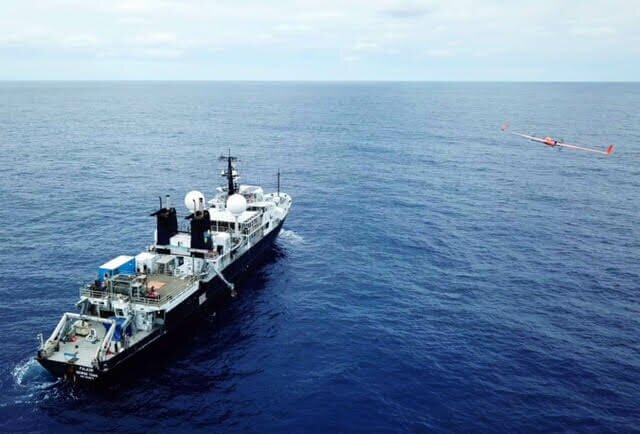 The FlightWave Edge was part of a group of autonomous marine vehicles being used to map out ocean fronts. Researchers used it to try out three types of sensors: a thermal camera to measure sea surface temperature, a multispectral camera to detect plankton, and a special sensor made by NASA that measures a gas called DMS, emitted by plankton.
"Operating from a ship out in the middle of nowhere enabled us to demonstrate the Edge's versatility and airworthiness," says FlightWave's co-founder and chief technology officer, Trent Lukaczyk, who was part of the team at sea. "And there's only one good place to land: back on the ship. The Edge's [vertical takeoff and landing] and payload swapping are important capabilities out here. And networking into a system of autonomous assets via the Falkor's network and supercomputer put this demo on a whole new level."
The Falkor set sail on May 28 and returned to port on June 17.