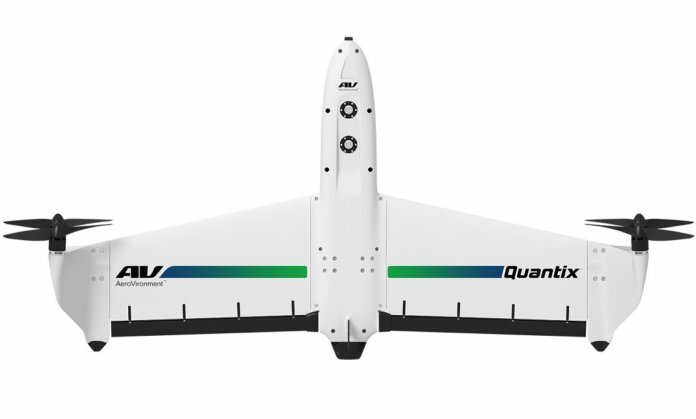 AeroVironment Inc., a maker of unmanned aircraft systems (UAS) for both defense and commercial applications, has announced its 2019 Quantix and AV DSS University Collaboration Project.
The project's focus is to advance academic research, applications and crop production practices to improve the future of farming through the use of drones and data analytics.
Through the project, AeroVironment has donated 87 Quantix hybrid drones and AV DSS systems to the agricultural departments of 35 universities throughout the U.S., including Purdue University, The Ohio State University, Cornell University, the University of Louisiana-Monroe, the University of Florida, the University of Georgia, North Dakota State University, and Cal Poly San Luis Obispo.
Participating universities will employ AeroVironment's Quantix hybrid drone and AV DSS data analytics platform in a variety of in-field trials, application usage studies and precision agriculture systems research. The research will cover areas such as crop nutrient and input management; artificial intelligence for detecting weeds, pests and diseases; and improved accuracy of crop yield prediction. Participating universities will share their insights to help advance the adoption of UAS-based technologies for the agriculture industry.
"Working with the team at AeroVironment moved our drone-based agriculture research forward beyond what we could have done otherwise," notes professor Quirine Ketterings of Cornell University's Nutrient Management Spear Program. "Ultimately, our goal is to develop accurate corn yield predictions based on in-season nitrogen applications to achieve an optimal economic return for the producer."
Featuring a vertical takeoff and landing (VTOL) design, the Quantix drone, which is purpose-built for crop scouting, can survey up to 400 acres in 45 minutes. During flight, integrated sensors capture high-resolution color and multispectral imagery via dual 18-megapixel cameras. On-board processing wirelessly transmits true color and NDVI imagery to the included operating tablet as soon as the drone lands, allowing growers to investigate issues while still in the field. For more detailed analysis, Quantix integrates with AV DSS to perform image processing and data analytics.
"AeroVironment's donation of Quantix and AV DSS will enable participating universities to quickly and easily gain the on-demand field intelligence they need to advance multiple areas of agriculture research, while enhancing the understanding and application of drone-based technology," says Rick Pedigo, vice president of business development at AeroVironment. "With on-demand access to high-resolution imagery and advanced data analytics, we're preparing the latest generation of farmers to employ drone technology, such as Quantix and AV DSS, throughout their farming practices – improving crop production and farming efficiencies for years to come."
"Working with industry leaders such as AeroVironment allows our program to stay on the forefront of the UAS field," adds Paul Karlowitz, director of operations for the University of Louisiana Monroe's Precision Agriculture and UAS Research Center. "The donation of two drones to our program will allow us to provide outstanding hands-on experience to our students."