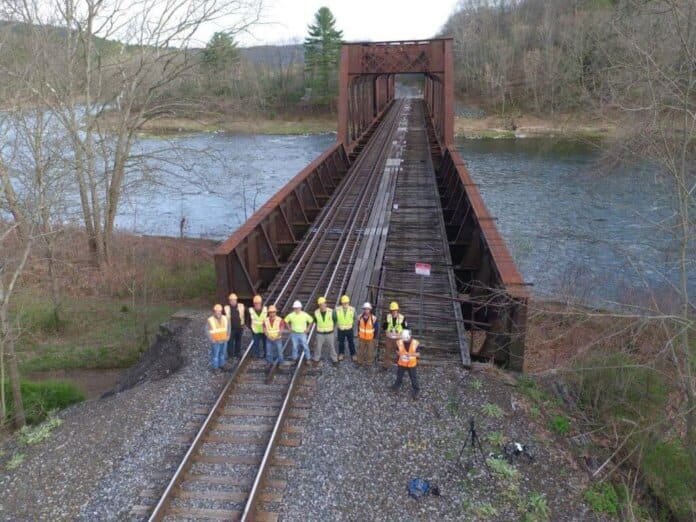 Two teams of unmanned aerial vehicle (UAV) operators from AirShark and Unmanned Experts recently came together to conduct a complete, detailed inspection of New York State's Tusten Station Railroad Bridge, located over the Delaware River.
According to the companies, the bridge, built in 1904, carries nightly freight trains between the Shohola and Narrows Control Points and moves more than one million gross tons of cargo annually. In turn, the solid monolith has needed to be kept in pristine condition for more than a century.
Unmanned Experts, a UAV training and services company based in Colorado, took several thousand HD photos, plus video, of every side of the bridge deck, each pier and abutment, and the rail approaches.
Media Wing (dba AirShark), a New Hampshire-based team of UAV pilots, brought a modified drone with a "look up" capability to photograph the state of the girders and ties underneath the decking – a challenging task given the restricted flying area and the deep shadows beneath the bridge, the companies point out.
Over two days of excellent spring weather, the teams worked with the New York, Susquehanna and Western Railway (NYSW); railroad bridge inspectors; and rail crews to document the condition of the bridge.
Lastly, the railroad representatives arranged a "load test" for the bridge. The UAV pilots positioned their drones within feet of the steel trusses and girders to record every movement of the structure as the railroad ran a locomotive and a loaded tank car back and forth over the bridge.
Back at the office, the UAV teams reviewed the 2,500 images and video, representing 60 gigabytes of data, to identify locations on the structure that needed highlighting. In turn, they provided a detailed, federally compliant CFR/FRA 237 report.
Unmanned Experts says this project represented its eighth railroad bridge inspection via drone.
Inspection participant Rick Howard, assistant chief engineer at the NYSW, states, "We believe that drones will have a role in future bridge inspections and welcomed the opportunity to see what they can do to improve inspection efficiency and safety while still gathering the required information."