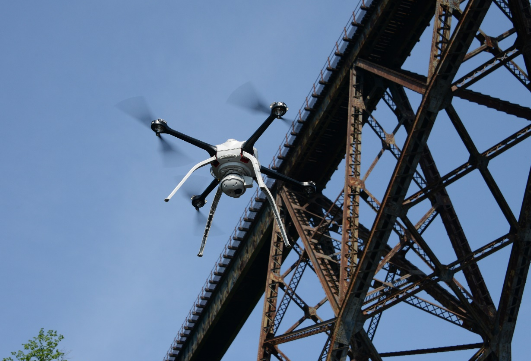 There are 20,291 bridges of 10 feet long or more and 4,571 trunk highway bridges in Minnesota – and they all require inspection. To that end, the Minnesota Department of Transportation (MnDOT) is exploring ways to control cost and manage risk by using drones.
A recent study by MnDOT looked at the effectiveness and possibility of employing unmanned aerial vehicles (UAVs) to aid in bridge inspections by gathering images without the use of an under-bridge inspection vehicle.
"Using drones could help MnDOT decrease the rising costs of bridge inspection while minimizing risks associated with current bridge inspection methods," states Jennifer Zink, MnDOT bridge inspection engineer.
Unmanned Experts – a sub-consultant of Collins Engineers Inc., co-author of the study – holds Section 333 exemptions from the Federal Aviation Administration (FAA) and used the Aeryon SkyRanger UAV for the operations.
The report says the SkyRanger was a "robust and capable unit" that offered 50 minutes of flight time and the ability to fly in the rain. However, it was not able to look upward effectively because of Wi-Fi interference and could not operate under the bridge decks because of GPS signal issues.
According to the study, the team also looked into using the senseFly eXom but did not have an FAA exemption for that aircraft; it plans to explore the eXom more in future studies.
The report notes that FAA rules are currently "onerous" when it comes to these types of inspections: "While these rules do not prevent the use of UAVs for bridge inspections, the increased time required to obtain approvals is significant and cost-prohibitive as a tool for bridge inspection.
"However, proposed rules will remove many or all of these obstacles to widespread adoption," it says, adding that most UAVs used for these inspections would fall into the category of a micro UAV (under 4.4 lbs), a category proposed last December and discussed by the FAA in its proposed rules.
The research team used drones on four bridge inspections around the state. The team found that drones' ability to gather high-quality still images and video footage of bridges correlated with the findings in previous bridge inspections that did not use drones.
The UAVs also captured data from infrared cameras and data needed to construct maps of bridge areas and 3D models of bridge elements.
According to the report, UAVs are more suited for bridges that are larger in size but can also be useful for smaller ones, such as for short-span bridges and culverts.
Although drones "cannot perform inspections independently," the study says, they "can be used as a tool for bridge inspectors to view and assess bridge element conditions in accordance with the National Bridge Inspection Standard."
Goals in phase two of the study, which begins in early fall, include operating the drone without a GPS signal and gathering images from the underside of bridges.
Video from the inspection of an 80-foot concrete bridge in Chisago County can be found here.
View the complete study here.
Photo courtesy of MnDOT