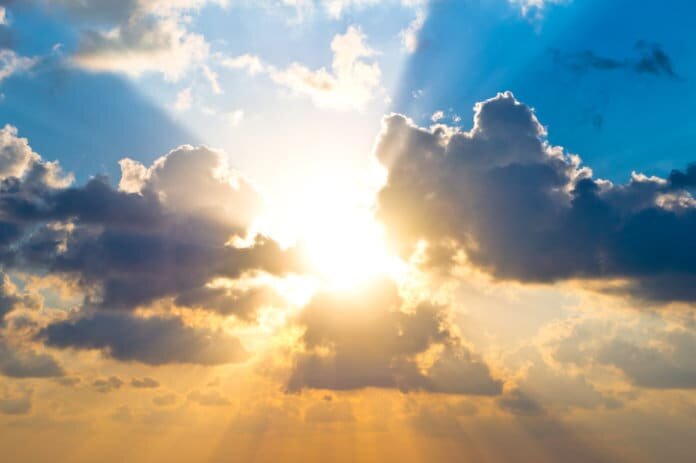 The Aerospace Industries Association (AIA), in partnership with Avascent, has released a new study projecting "explosive" growth in the global market for large unmanned aircraft systems (UAS) – those weighing more than 55 pounds – over the next two decades.
According to the association, the report, "Think Bigger: Large Unmanned Systems and the Next Major Shift in Aviation," shows that large UAS "represent a cornerstone of future aviation, changing the nature of travel, technology and transport, and the economies surrounding those markets."
Specifically, the report says spending on large UAS is expected to rise from the low hundreds of millions today to $30 billion annually by 2036, driven by manufacturing and services for long-haul cargo and passenger aircraft. The report also shows that spending is expected to sustain up to 60,000 research, manufacturing and service jobs annually by the end of that time frame.
"We have got to think bigger when it comes to the future of unmanned aviation," says Eric Fanning, president and CEO of AIA. "The future unmanned systems market will change the way we travel and transport products. We could see entirely new economic centers where they don't exist today. It's an incredible opportunity – if government and industry start now on the regulations and technology to realize that potential."
As explained in AIA and Avascent's white paper, large unmanned aircraft are defined as follows: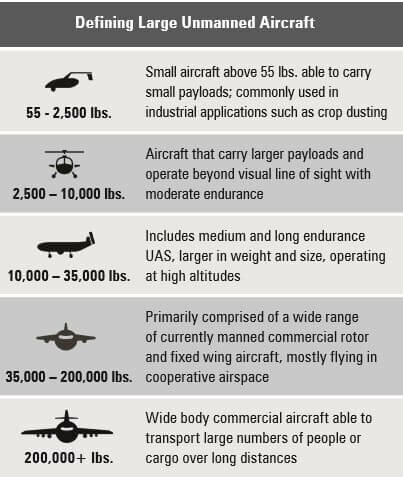 Furthermore, the white paper describes the following applications for large UAS: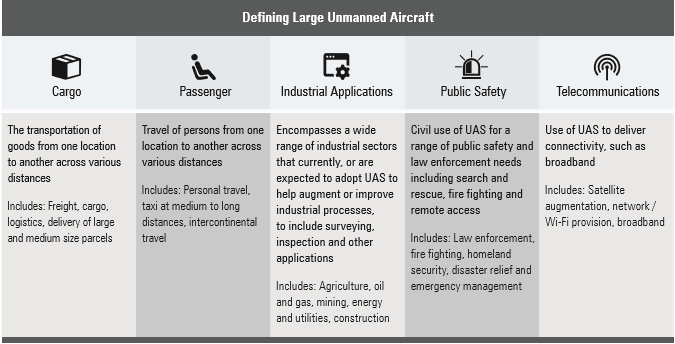 According to AIA, the large UAS market requires U.S. regulators to adopt a posture that both ensures safety and fosters commercial innovation. Recommendations for maintaining U.S. leadership in this developing market include codifying near-term needs for detect-and-avoid operations, autonomous certification and spectrum allocation; international harmonization of regulations and performance-based consensus standards; and modifications of civilian drone-related export and trade restrictions, according to the report.
"The biggest barrier to growth is the regulatory framework," Fanning explains. "Global competitors are working to seize the market from the United States, the country that invented this technology. These are American jobs and American opportunities. But we must start now on certification standards, exports and spectrum to ensure they stay American."
Furthermore, the white paper concludes as follows:
"The biggest barrier in the way toward this future is a status quo mindset toward unmanned aircraft. The small UAS segment offers indications of the challenges ahead. First, rulemaking that cannot anticipate innovation will clearly hamper the development of emerging unmanned aircraft technologies. Second, industry and operators cannot flourish while domestic and international regulatory bodies struggle with unclear and/or overlapping roles. Finally, commercial unmanned aircraft must emerge from the shadow of an outdated military export control regime that could classify a civilian unmanned aircraft as a cruise missile. Such overly restrictive rulesets curtail exports and risk spoiling U.S. leadership in this emerging global market."
Based in Arlington, Va., AIA was founded in 1919. Today, more than 340 major aerospace and defense companies and their suppliers are members of the association.
More on the report can be found here.