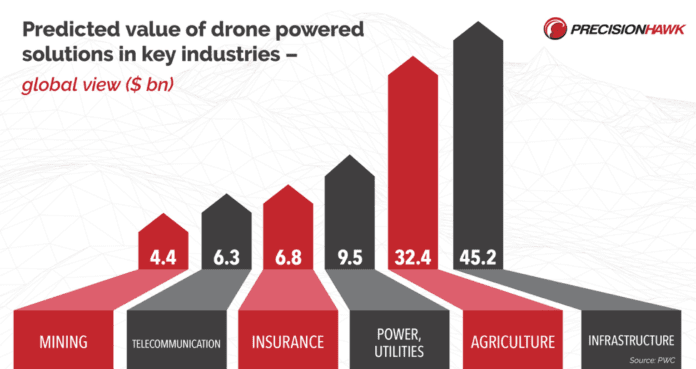 PrecisionHawk Inc., a provider of drone technology for the enterprise, has raised a $75 million round of funding from a group of venture and strategic investors.
This investment brings PrecisionHawk's total funding to more than $100 million since the company was founded in 2010. In turn, PrecisionHawk calls itself "the world's most well-capitalized commercial drone company."
The round was led by Third Point Ventures. Additional new investors include Comcast Ventures, Senator Investor Group, Constellation Technology Ventures and Syngenta Ventures, among others, with participation from existing investors Intel Capital, Millennium Technology Value Partners, DuPont, Verizon Ventures, a subsidiary of USAA and Indiana University's Innovate Indiana Fund.
"We see the potential for PrecisionHawk to enable enterprises around the world with new tools for 21st-century opportunities," says Robert Schwartz, managing partner of Third Point Ventures. "We believe the business insight that can be achieved with PrecisionHawk technology will be a catalyst for profound transformation, and this investment gives us an opportunity to support their growth and continued industry leadership."
With this latest investment, PrecisionHawk plans to expand its team, focus on product innovation and make strategic acquisitions.
"PrecisionHawk's mission is to empower the enterprise pioneer, from pilot to deployment. To drive transformational change, we believe a business needs an integrated hardware-software platform and the technical support to connect to existing systems and workflows," comments Michael Chasen, PrecisionHawk's CEO, who was appointed in January 2017. "Drones are not only replacing old information with more precise information – they are providing an entirely new layer that was previously unattainable or economically prohibitive to collect. With advanced sensors such as LiDAR and the analytics to interpret their outputs, organizations are gaining unprecedented visibility into their work – ultimately, making them more profitable and sustainable."
PrecisionHawk notes it hired over 100 new employees in 2017. Its client list includes Fortune 500 companies and customers in 150 countries, spanning a range of industries, including agriculture, energy, insurance, government and construction. The privately held company is headquartered in Raleigh, N.C.