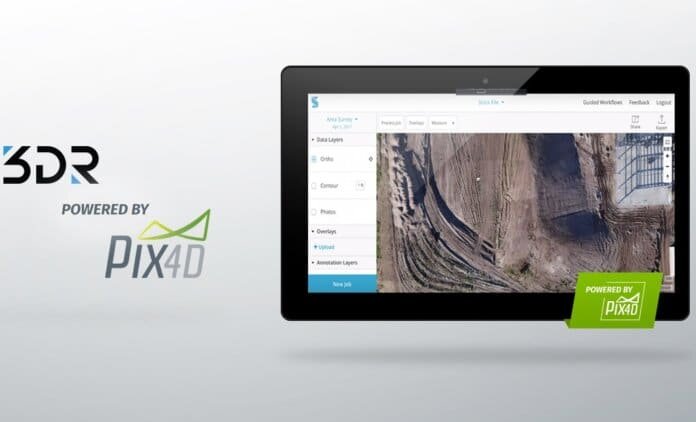 3DR's Site Scan, a drone data platform for engineering and construction, has been integrated with Pix4D's photogrammetry engine.
According to the companies, the new integration will help 3DR customers obtain highly detailed results, including orthomosaics, digital elevation models and point clouds.
With the addition of the Pix4D processing engine, Site Scan customers can now process five times more photos at once – 2,500 in total – the companies add.
"With the combination of the Sony R10C camera and our newly improved processing engine, Site Scan can deliver results that consistently rival LiDAR and traditional surveying when it comes to accuracy," says Chris Anderson, CEO of 3DR. "This marks the next step in drones becoming an essential tool on job sites across the world."
Pix4D's software converts images taken by hand, drone or plane into survey-grade and georeferenced 2D mosaics, 3D models and point clouds. Founded in 2011, Pix4D has been expanding from its headquarters in Lausanne, Switzerland, to offices in Shanghai, San Francisco and Berlin.
3DR's flagship product, Site Scan, is a complete drone-to-data platform allowing enterprise and commercial users to collect and process aerial data, perform inspections and improve business operations. It was recently integrated with the DJI Phantom 4 Pro.