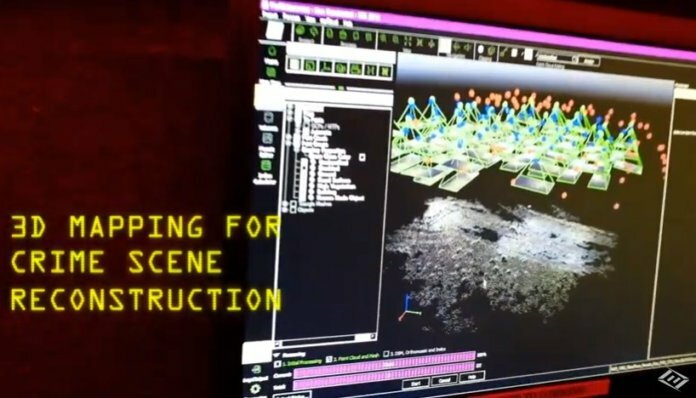 On Jan. 23, Sundance Media Group, along with FoxFury Lighting Solutions, Westwind Unmanned Vehicles, Yuneec Aviation, Pix4D and Autel Robotics, hosted a nighttime drone crime scene investigation demonstration in Henderson, Nev.
Recreating a homicide scene at an equestrian park, the demonstration used drones to capture forensic evidence at the scene and map it in 2D and 3D for law enforcement use.
The demonstration started at 6:00 p.m. Douglas Spotted Eagle from Sundance Media Group greeted the attendees, representing law enforcement, security services and international delegations, and the group moved into position along the perimeter of the scene to watch as the Sundance Media Group crew worked to show what would happen if law enforcement were arriving at the murder scene and mapping it for the first time.
A model, outfitted with moulage, laid out as a murder victim. FoxFury provided four Nomad T56 scene lights to illuminate the surrounding area to aid with photo and video capture. Two drone launch pads were positioned at one end of the scene, one holding an Autel Evo, the other holding a Yuneec H520.
Autel showcased its new LiveDeck technology, allowing the footage to be seen live at the Sundance Media Group A.V.O.C. (Aerial Vehicle Operations Center). Once the data was captured, it was imported into Pix4DMapper software, which created maps and models of the scene. Attendees were then able to view these on a large monitor within a few minutes.
The goal of the demo was to show attendees how the combination of portable lighting, drone hardware and Pix4DMapper software could significantly save time for law enforcement officials, increase the accuracy of the investigation and keep officials at a safe distance from the scene.
The partners plan to hold similar demonstrations throughout the year. A video of the event can be watched below: