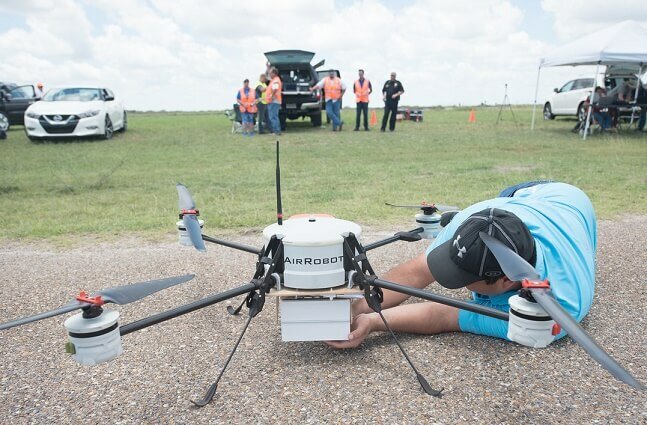 The Lone Star UAS Center of Excellence and Innovation at Texas A&M University-Corpus Christi (LSUASC) is highlighting its recent participation in a series of drone test flights conducted in support of NASA's unmanned aircraft system (UAS) traffic management (UTM) program.
From May 15 through June 9, NASA, the Federal Aviation Administration (FAA) and test sites around the nation conducted a number of test flights to provide insight into how drones can operate in low-altitude airspace.
LSUASC successfully conducted several test flights over the course of three days, beginning on June 5 and running through June 8 at The Charles R. Johnson Airport in Port Mansfield, Texas. During a special media demonstration, LSUASC performed a test flight in which three UAS flew together in the same airspace over a simulated "capsized boat" in the Laguna Madre. An AR 180, provided by LSUASC commercial partner AirRobot, was outfitted with a new MESA-DAA airborne sense-and-avoid radar. Created by LSUASC commercial partner Echodyne, the new radar was tested for use with small UAS.
According to LSUASC, the airborne radar will enable beyond-visual line-of-sight (BVLOS) flight for many applications, including package delivery, infrastructure inspection and, in this demonstration, public safety.
"Echodyne's airborne detect-and-avoid radar is made especially for small to medium UAS and enables safe beyond visual-line-of-site operations – in all environments and conditions," comments Jerry Hendrix, executive director of the LSUASC. "Before the MESA-DAA became commercially available, there were no options for long-range radar on small to medium commercial drones."
Another purpose of the test flights was to provide NASA with data to improve BVLOS technology and first-responder operations, says LSUASC.
"Radar is an ideal sensor technology for all sorts of scanning and imaging applications, especially when environmental conditions are less than ideal," explains Thomas Driscoll, chief technology officer for Echodyne. "Our radar thrives over other sensors in unpredictable weather conditions, can rapidly scan a broad field of view, can track Cessna-sized targets at distances greater than two kilometers and dramatically increases situational awareness for UAS operators."

NASA's UTM plan consists of a series of activities called technology capability levels (TCLs), which increase in capacity with each level.
The testing of the new radar was a part of NASA's TCL 2, which focuses on flying drones BVLOS in sparsely populated areas to demonstrate, evaluate, and refine functional designs and UTM technology prototypes.
"There is a growing demand for the commercial applications of drones in our airspace," says Jeffrey Homola, researcher in the Airspace Operations Laboratory at NASA Ames Research Center. "There are programs in place for drones operating in the low-altitude airspace, but we continue conducting research to extend the use of drones beyond their current limitations, such as operating within visual line of site. This research will enable beyond-line-of-sight, altitude and stratified operations of drones operating in the same airspace."
The next step in the UTM research initiative, TCL 3, will use results gathered from the TCL 2 test flights to then focus on testing technologies that maintain safe spacing between responsive and non-responsive UAS over moderately populated areas, says LSUASC.