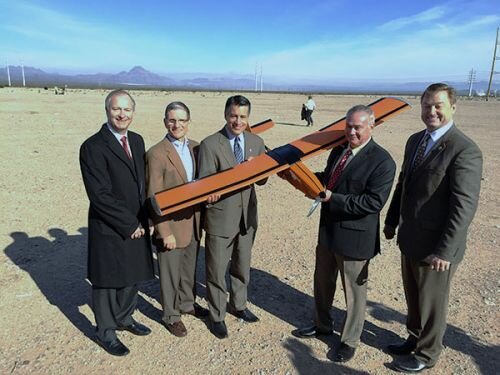 Sensurion Aerospace says it has received a Special Airworthiness Certificate (SAC) from the Federal Aviation Administration (FAA) for the MAGPIE MP-1 unmanned aerial system (UAS).
With the issuance of the certification, the Minnesota-based company says, its MAGPIE MP-1 unmanned aircraft is now authorized to fly in the Nevada UAS Test Range, which is part of the U.S. National Airspace System. In addition, the FAA issued Certificates of Authorization (COAs) for the aircraft to operate in Nevada UAS Test Range airspace.
The company says it is proceeding with critical Section 333 exemptions to authorize civil use of the MAGPIE MP-1 in oil and gas exploration missions, critical infrastructure monitoring, atmospherics and gas sensing, and flight training.
A successful test flight of the newly certified MAGPIE, U.S. registration N106MP, was completed in Boulder City on Dec. 19, where Nevada Gov. Brian Sandoval, Sen. Dean Heller and Rep. Joe Heck were among those participating in a ceremony marking the official initiation of Nevada UAS Test Range operations.
'This is a great day for the State of Nevada, the FAA and Sensurion Aerospace,' says Sensurion CEO Joe Burns. 'This is an important step forward for the unmanned aircraft industry, and for aviation innovation in Nevada. Sensurion Aerospace is proud to have our MAGPIE MP-1 initiate operations here in the Nevada UAS Test Range, and to be among the first to carry an FAA 'N number' registration."
Photo courtesy of Sensurion