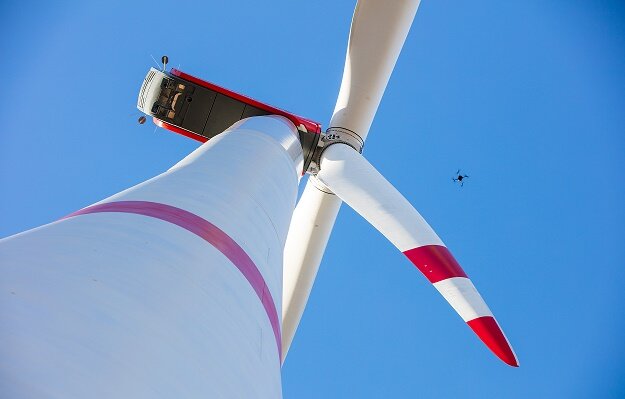 The Nordex Group, a German wind turbine manufacturer, has formed a partnership with Lufthansa Aerial Services (LAS) for unmanned aircraft system (UAS)-supported inspections of wind turbines.
According to Nordex, an important part of the technology is being able to conduct close-up inspections of rotor blades without needing to use rope teams. With the aid of LAS, Nordex says it will be able to develop timely and specific service and repair instructions.
Furthermore, by collecting a large amount of data, the manufacturer can monitor the aging of the turbines and determine how often a blade must be inspected or serviced. Nordex says it has installed more than 20 GW of wind power in over 25 markets. Its product portfolio is focused on onshore turbines in the 1.5 to 3.6 MW class.
"Lufthansa Aerial Services is an ideal partner for the Nordex Group: LAS is able to draw on the many years of experience of the Lufthansa Group in aviation, especially in the maintenance of complex systems," said Bo Moerup, head of global service at the Nordex Group.
LAS, a new division in the Lufthansa Group, belongs to Lufthansa Consulting GmbH. It offers commercial UAS operations, as well as related data management, for the inspection, measurement and monitoring of infrastructure, including wind turbines.
"On the basis of the large quantity of very precise data that LAS will provide us with on the regular inspection flights, we will be able to make detailed analyses, as well as optimize our turbines and our service," added Moerup. "This will bring us even closer to our target of a lower cost of energy."
Dr. Andreas Jahnke, managing director of Lufthansa Consulting GmbH, noted that the potential for drones in the wind power industry is "growing rapidly."
"Thanks to the partnership with a strong company like Nordex, we can develop innovative solutions that meet the requirements of the wind industry in the best possible way," Jahnke said. "Apart from the close-up inspection of rotor blades, monitoring the progress of the construction of new wind farms is another area of application."