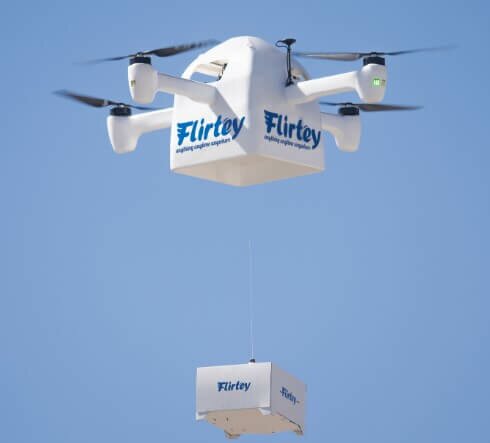 Reno, Nev.-based Flirtey has introduced its newest delivery unmanned aircraft system (UAS), the Flirtey Eagle.
The company says the goal of the new drone is to deliver packages to customers in less than 10 minutes' time. The UAS, designed to operate in 95% of wind and weather conditions, delivers its contents by lowering a tether while the aircraft is suspended in air. Once the package is delivered, it then retracts the tether.
Flirtey's new aircraft, which is controlled by an autonomous software platform, can fit into one parking space, making its infrastructure easily scalable to partners for store-to-door delivery, the company says.
Flirtey says the technology was developed from the ground up, originating from NASA's drone program. Flirtey's founder and CEO, Matthew Sweeny, brought together a team of aviation industry veterans from NASA, Raytheon, Lockheed Martin and SpaceX, as well as military veterans from the Army, Navy and Air Force. The Flirtey Eagle builds upon technologies developed for Flirtey's previous-generation aircraft, which conducted the first Federal Aviation Administration (FAA)-approved drone delivery in the U.S. This drone is going on display alongside the Wright Flyer in the Smithsonian National Air and Space Museum in Washington, D.C.
The company has released footage of its new drone performing deliveries:
"We are thrilled to now reveal Flirtey's industry-leading technology to the world. We expect Flirtey's advanced drone delivery system will become the industry standard in America," says Sweeny. "Flirtey's technology has unique capabilities unavailable from any other aircraft manufacturer to enable first-movers to capture market share in their industries. Flirtey's latest technology makes life-saving and commercial drone delivery to homes in the United States an imminent reality."
U.S. Sen. Catherine Cortez Masto, D-Nev., joined Flirtey at the unveiling of the new UAS on Monday. Last year, Flirtey and the City of Reno were selected to participate in the FAA's UAS Integration Pilot Program (IPP). In September, Flirtey successfully completed a multi-drone delivery demo in Reno.
Cortez Masto toured Flirtey's manufacturing facility in 2017 and worked with the U.S. Department of Transportation to include Nevada in the UAS IPP.
"It's companies like Flirtey, and the Silver State's FAA designation as a drone test site, that are helping cement Nevada's status as the Innovation State," says Cortez Masto. "By making deliveries quicker and safer, the drone industry can save lives and improve quality of life for communities across the country, all while generating investments and creating jobs. When I toured Flirtey's cutting-edge manufacturing facility two years ago, I saw firsthand the importance of the work they're doing to diversify our local economy and develop industry-leading technologies. I'll continue to work in the Senate to promote innovative Nevada led businesses, sustain Nevada's drone industry, and provide the safety and regulatory certainty our pioneering technology companies need to thrive."