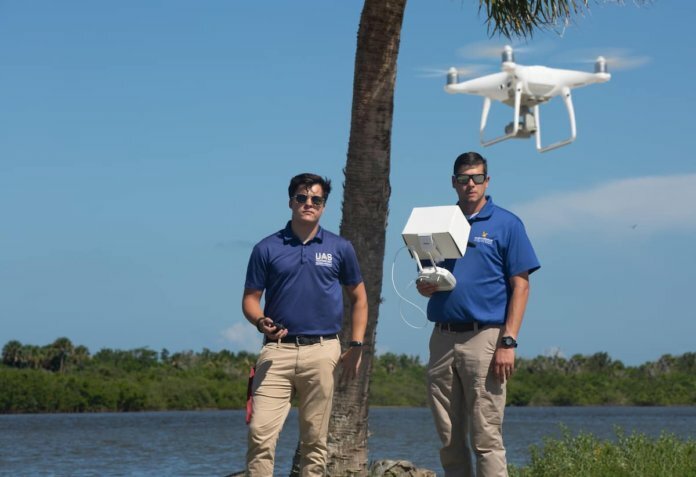 Along the shorelines of Menard-May Park in Edgewater, Fla., Embry-Riddle Aeronautical University recently deployed unmanned aircraft systems (UAS) above the water to capture high-resolution images and video of this area of Mosquito Lagoon, which is part of the Indian River Lagoon system.
The aerial reconnaissance survey, organized and flown by faculty, staff and students from Embry-Riddle's UAS science program, supports the Riverside Conservancy, a nonprofit dedicated to restoring and preserving living shorelines in southeast Volusia County.
"With a UAV, we can obtain an aerial perspective and create detailed imagery to determine where problems or inefficiencies may exist," says John M. Robbins, Ph.D., associate professor and UAS program coordinator at Embry-Riddle's Daytona Beach Campus.
The images from the DJI Phantom 4 Pro drones will be compiled into a true-scale, orthomosaic map of overlapping images that will assist the Riverside Conservancy with a baseline view of the water's edge in the hopes of mitigating erosion in the future. Vegetation being planted will help to absorb pollution and provide habitat for fish species, according to Greg Wilson, Ph.D., chief science officer of the Riverside Conservancy.
The organization has been working alongside the City of Edgewater, the Center for Earth Jurisprudence at Barry University Law School and Volusia County to make the shorelines more resilient. This planting project is being led by Bethune-Cookman University through a federal grant.
"We will be able to track with Embry-Riddle's footage how successful these replanting projects are in stopping and preventing erosion and flood surge and hopefully even pollution uptake," notes Kelli McGee, executive director of the Riverside Conservancy.
This is the first of similar missions planned with the Riverside Conservancy for Embry-Riddle's UAS students and professors. The projects, Robbins says, provide hands-on skills to students in the school's UAS program and also help them meet service learning requirements.