Louisiana University Picks Up UAV, Eyes Industry Investment
in Content > UAVs

Louisiana-based Nicholls State University has received a Trimble UX5 unmanned aerial vehicle (UAV) through a donation and plans to use to the aircraft to survey barrier islands along the coast of the Gulf of Mexico.
The Trimble UX5 is composed of black carbon fiber and polystyrene foam, making the UAS lightweight. The aircraft is launched from a ground-mounted slingshot and can fly 55 mph while reaching altitudes of up to 16,400 feet. A high-resolution camera is fitted into the underside of the UAV.
Nicholls is hoping to attract investment in UAVs from oilfield and coastal industries through research it is conducting as part of its geomatics program, according to an article by the
Daily Comet
. Geomatics is the science of surveying.
As such, the university has applied for a certificate of authorization or waiver from the Federal Aviation Administration (FAA) in order to fly the Trimble UAS at a research station near Lafourche Crossing.
The FAA's UAV regulations have already disrupted one pilot project between the university and energy behemoth Shell.
Although Nicholls had agreed to use a UAV to monitor natural gas flares on Shell's offshore platforms in the Gulf of Mexico, the FAA shut down the operation. Other means will be used to collect information, and the university will assist with data interpretation.
Read the full Daily Comet article
here
.
Photo courtesy of Trimble UAS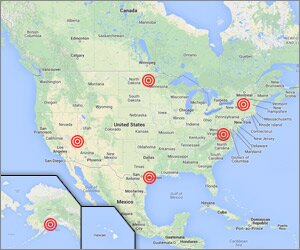 College students enrolled in a course to learn how to fly unmanned aerial vehicles (UAVs) have been told to stay indoors. Although the University [...]
Read More
Canadian officials are investigating incidents in which an unmanned aerial vehicle (UAV) flew near Vancouver International Airport and over Vancouver Harbour, which hosts commercial [...]
Read More
The U.S. Department of Justice's National Institute of Justice (NIJ) has issued a request for proposals to develop, host and maintain an online flight [...]
Read More