National Institute of Justice Seeks Proposals for UAS Database
in Content > Data Management

The U.S. Department of Justice's National Institute of Justice (NIJ) has
issued
a request for proposals to develop, host and maintain an online flight and incident reporting system for public safety use of small unmanned aircraft systems (UAS).
Specifically, the NIJ wants to collect flight-operations data from law enforcement and other public safety agencies about their employment of UAS that weigh less than 55 pounds. The NIJ plans to make the information publicly available for analysis by entities interested in the use of small UAS in the national airspace system.
In making this data readily accessible to the public, the NIJ seeks to make possible further research and study of law enforcement and public safety small UAS flight operations, with the hope to improve the safety and increase the operational efficiency of such operations.
The NIJ notes that the system is not intended to collect, store or disseminate sensitive law enforcement data or classified national security information, as this material cannot be made readily available to the public.
Applicants must register with
grants.gov
prior to submitting a proposal, and applications are due by June 16. A total of up to $250,000 may be awarded under the solicitation.
More information is available
here
.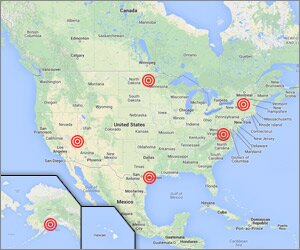 College students enrolled in a course to learn how to fly unmanned aerial vehicles (UAVs) have been told to stay indoors. Although the University [...]
Read More
Canadian officials are investigating incidents in which an unmanned aerial vehicle (UAV) flew near Vancouver International Airport and over Vancouver Harbour, which hosts commercial [...]
Read More
The U.S. Department of Justice's National Institute of Justice (NIJ) has issued a request for proposals to develop, host and maintain an online flight [...]
Read More