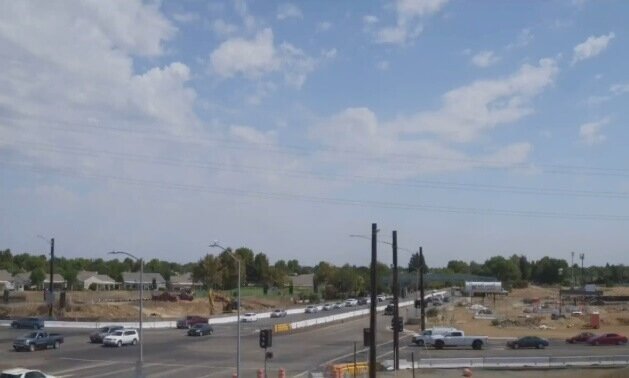 Yesterday, California's Contra Costa Transportation Authority (CCTA) and engineering firm Alta Vista Solutions showcased two emerging technologies on a construction project aimed to improve commutes on Highway 4: Engineers piloted drones equipped with LiDAR lasers and provided a live feed of the aircraft in action.
With assistance from Alta Vista, which proposed the method, CCTA flew the LiDAR scanners to measure land that needs to be moved for the $74 million project, which will rework the Balfour Road interchange. According to the partners, the drones ensure that the cut-and-fill earthwork goes efficiently, and with LiDAR's pinpoint accuracy, CCTA can now make needed calculations and monitor site conditions faster, eliminating the unavoidable guesswork involved in manual surveys.
Putting LiDAR on the drones cuts the time spent surveying drastically and improves safety by taking workers out of live traffic, the partners note.
CCTA is a public agency formed by Contra Costa voters in 1988 to manage the county's transportation sales tax program and oversee countywide transportation planning efforts. It is responsible for planning, funding and delivering critical transportation infrastructure projects and programs.
"We are always looking for new ways to increase safety and efficiency on construction projects," says CCTA's director, Randy Iwasaki. "Drones give us aerial views of the site that were hard to come by before, making it safer for surveyors to do their job and helping us manage the large volumes of dirt that are being used to improve this intersection. This technology also allows us to monitor environmentally sensitive areas without disturbing the habitat."
"This will change engineering and surveying," adds Ed Greutert, principal engineer at Alta Vista. "Innovations like combining LiDAR and UAVs are opening doors in infrastructure and making us efficient, effective and safe in ways we couldn't achieve before."
Addressing fears of job loss as automation increases, he says, "Using technology to do the surveying work can lead people to ask if this is the next step to the robot apocalypse: Are drones going to take our jobs?" he speculates. "Not quite. It's going to change jobs. It's going to create new jobs in technology – and in the Balfour Road case, help people get to work faster."
CCTA notes it has faced challenges, however, such as processing the hundreds of gigabytes of data collected.
"There are always challenges to pioneering new technology," Iwasaki explains. "But with the benefits this technology can provide in terms of keeping workers safe and managing a complicated construction project, I believe we'll start to see more widespread use of drones on construction sites within a few years – especially as we discover new applications that can help save time and money. Right now, CCTA is excited to be leading efforts in this new frontier."
Footage from the flights can be found here.