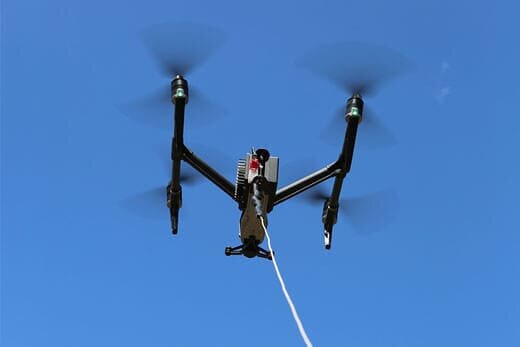 Tethered drone manufacturer Drone Aviation Holding Corp. (DAC) has rolled out FUSE, a tethering system designed for DJI Inspire unmanned aircraft systems (UAS).
Using a new patent-pending power pack, the FUSE tether system maximizes drone use for both Inspire 1 and Inspire 2 owners, the company says. By dramatically increasing flight time with uninterrupted power from the ground, the tether facilitates long-duration flight operations by news media, first responders, infrastructure inspectors and insurance companies, for example.
According to DAC, FUSE is based on the same military-grade tethering technology used in the company's tethered products sold to the U.S. Department of Defense, including the WATT electric tethered drone.
"Targeting the enterprise and commercial markets is a natural and significant step for our business as we see increased demand from organizations in the marketplace for tethered products in the commercial price range," states Jay Nussbaum, chairman and CEO of DAC. "Working with products produced by DJI, the world's largest commercial drone manufacturer, we look forward to enhancing the safety and flight capability of current and future DJI drone models as more businesses integrate drones into their operations."
FUSE comprises a customized power pack and an "automated smart tension control winch case" with 200 feet of tether, supporting 110-volt ground power sources, including portable generators. The system is now available for pre-order.