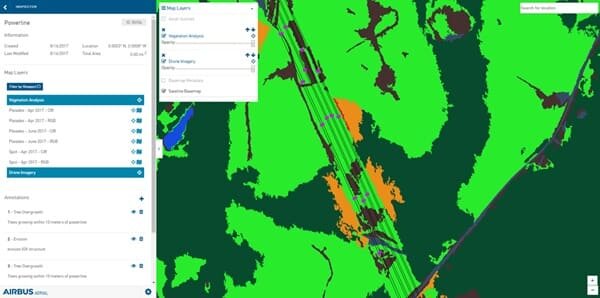 Airbus Aerial, Airbus' newly launched division for commercial aerial services, recently partnered with utility Southern Co. to conduct a demonstration of power line inspections using a blend of aerial technologies.
The demonstration used Airbus' satellite systems to inspect Southern Co.'s electrical lines across a region of Georgia and a drone to collect finer details along a 30-mile span outside Atlanta. According to the partners, the demo marked the first time drone and satellite imaging technologies were used in tandem for power line inspections; it was also the first commercial beyond visual line of sight (BVLOS) drone operation in Georgia.
In attendance were authorities and executives from Federal Aviation Administration, Southern Co., and Airbus' drone division in Europe, as well as several Airbus Aerial business partners.
"Our goal here was to demonstrate how our technology can support Southern Co. in monitoring their energy infrastructure – particularly in remote locations – help them improve maintenance efficiency, ensure service continuity, support personnel safety and save costs," comments Jesse Kallman, president of Airbus Aerial.
"In this case, we were able to image an entire portion of the state of Georgia by satellite, identify the need areas along the lines where maintenance issues could occur, then used BVLOS drone inspections to determine how to remedy the issue," Kallman continues.
This specific trial used a fixed-wing drone, the DT-18 from one of Airbus Aerial's partners, DELAIR, which has been certified for BVLOS operations in France since 2012. The unmanned aircraft was used to inspect vegetation encroachment on the power lines.
Having already acquired and analyzed satellite images of the area from Airbus' Pleiades satellite, the team selected areas to inspect for more detail. The drone transmitted live video and imagery data back to the ground team using 3G and direct data links to demonstrate multiple options for transmitting commands to the aircraft, the partners explain.
"We put this demo together in concert with Airbus Aerial to demonstrate to our internal customers the relative benefits of beyond-line-of-sight inspections," notes Harry Nuttall, director of system air for Southern Co.
Once all the data and imagery were collected, the Airbus Aerial team generated analysis layers to deliver Southern Co. a comprehensive report on the state and condition of the power lines.