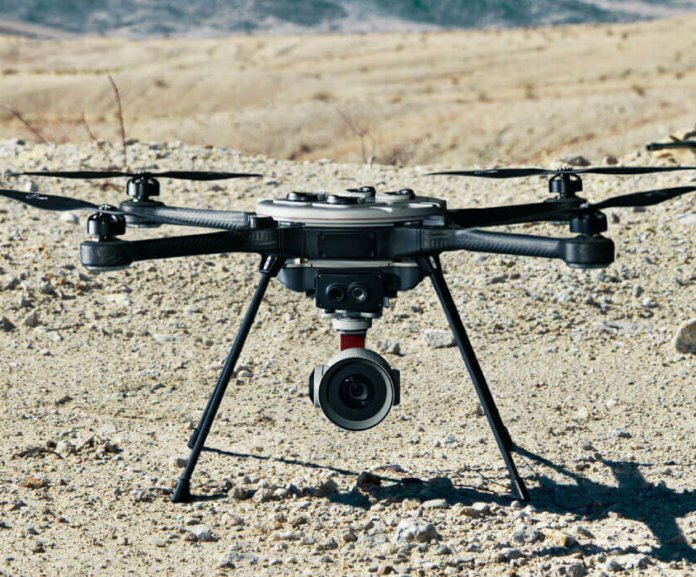 Waterloo, Ontario-based Aeryon Labs Inc., a provider of drones for military, public safety and commercial customers, has unveiled the SkyRanger R80, the newest addition to Aeryon's family of SkyRanger unmanned aircraft systems (UAS).
Designed for UAS operators within the defense and security markets, the R80 is based on the original Aeryon SkyRanger (renamed the SkyRanger R60), which has amassed over 100,000 flight hours and is deployed in over 30 countries, according to the company.
The new SkyRanger R80 is a multi-mission UAS that is designed to provide reliable operations in harsh environments and demanding weather conditions. It includes real-time, on-board artificial intelligence and computer vision for autonomous missions; a secure application development kit and payload development kit to enable third-party software integrations and payload developments; and an ability to carry payloads up to 2 kg (roughly 4.4 lbs.)
According to the company, the 2 kg payload capacity enables the drone to carry heavier optics and multi-sensor payloads that were previously restricted to much larger, more expensive fixed-wing UAS. With the new Osprey carry and delivery payload, R80 operators can attach and deliver objects such as radios, ground sensors, medical kits or life vests, for example. The R80 also adds a new front-mounted eletro-optical/infrared payload (with image fusion) to supplement bottom-mounted, non-camera payloads.
The R80's power is delivered from four redundant batteries, each rated below 99 Wh for easy transportation on commercial aircraft, the company notes. With its plug-in tether kit, co-developed with Hoverfly Technologies Inc. and available later this year, the R80 can also provide long-term overwatch or surveillance applications and then be reconfigured back into free-flight mode.
With multiple embedded NVIDIA TX2 processors, the R80 offers object detection and classification. To enable autonomous operations or flight in GPS-denied environments, the R80 includes multiple sensors providing flight control inputs, including four dedicated computer vision cameras.
Using Aeryon's new multi-aircraft control software, a single pilot can fly multiple R80s from a single ground control station on a single network. Multi-aircraft control builds upon Aeryon's automatic in-air replacement technology, enabling two R80s to automatically replace one another in flight, automatically handing off camera subjects while maintaining continuous eyes on the target.
Furthermore, the R80 can withstand sustained winds up to 70 kph (roughly 43.5 mph) and operate up to 15,000 feet above sea level under its standard propulsion configuration. For operations in denied-RF environments or for operations beyond the visual line of sight, the R80 is able to execute semi-autonomous missions without an active wireless link, says Aeryon.
Delivery of the new drone will begin in May, the company says.