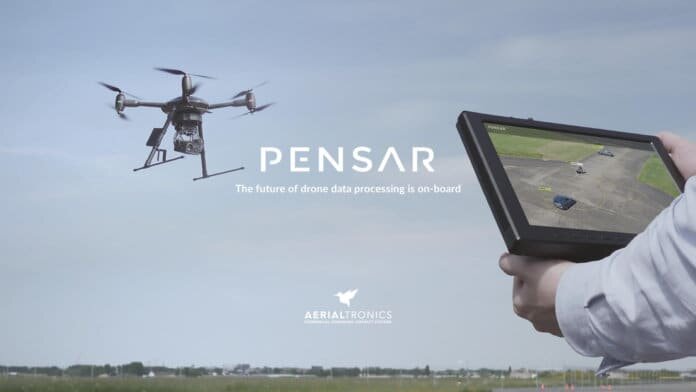 Aerialtronics has released PENSAR, a computer vision platform with deep learning capabilities for drones.
Calling it the "world's first dual-spectrum computer vision platform," Aerialtronics says the stand-alone twin sensor platform uses the GPU-accelerated computing power of the NVIDIA Jetson module to allow for real-time video processing and immediate augmented insights.
Aerialtronics says the platform is also the first to integrate the new FLIR Boson thermal camera into a drone application.
During the drone's flight, PENSAR leverages deep learning networks in real time to detect, recognize, track, classify and annotate certain objects or deviations of interest or, conversely, to blur out and mask objects for privacy reasons.
PENSAR allows users to run algorithms that filter the acquired data and output only what's relevant to them; this eliminates the need for lengthy and costly post-processing procedures, which can decrease the turn-around time between aerial data collection and follow-up operations, the company explains.
Aerialtronics says PENSAR will have future capabilities that process the filtered data of interest into augmented geo-referenced reports and push-notify them in real time by leveraging existing communications platforms and asset management tools. This way, operators can accelerate the workflows of business operations by preventing fault locations from being overlooked or lost during post-processing – thereby making it easier to relocate objects of interest for the operations team, says Aerialtronics.
The platform comes with Ubuntu Linux distribution, an open-source operating system that has the functionalities of a personal computer. In addition, the agnostic platform is compatible with open-source libraries such as Google's TensorFlow.
The platform has connectivity via Bluetooth and Wi-Fi and the ability to communicate via UART (Mavlink), CANbus and PWM, which can be used as a companion computer to most applications in drones and robotics, according to Aerialtronics.