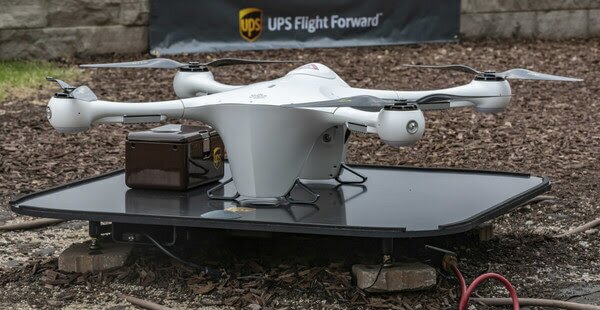 The Federal Aviation Administration (FAA) has awarded air carrier and operator certification to UPS Flight Forward Inc., the recently launched unmanned aircraft systems (UAS) subsidiary of UPS.
Through the federal UAS Integration Pilot Program (UAS IPP), the FAA approved a Part 135 operating certificate for UPS Flight Forward, allowing the company to perform revenue-generating package delivery activities within federal regulations. UPS Flight Forward says it is now approved to operate a "drone airline."
As a Part 135 Standard operator, UPS Flight Forward does not have pre-set limits on the available size or scope of its operations. There are four different scopes of operations for Part 135 certificate holders, as outlined by the FAA: 135 Single Pilot, 135 Single Pilot in Command, Basic and Standard.
UPS Flight Forward is permitted, for example, to fly an unlimited number of drones with an unlimited number of remote operators in command, enabling the company to scale its operations to meet customer demand. It also permits the drone and cargo to exceed 55 pounds. In addition, UPS Flight Forward is able to operate beyond the visual line of sight (BVLOS) of the operator and fly at night.
As a participant in the UAS IPP, the North Carolina Department of Transportation (NCDOT) partnered with UPS Flight Forward for the delivery of healthcare supplies around WakeMed's hospital campus in Raleigh, N.C. The flights, using Matternet technology, have focused on the delivery of blood for potentially lifesaving transfusions, as well as other medical samples for lab work. In turn, UPS demonstrated that its operations met the FAA's safety requirements to qualify for an air carrier certificate; this was based on extensive data and documentation, as well as test flights, the federal agency says.
UPS will continue using the Matternet M2 drone logistics system, comprising the Matternet M2 drone and the Matternet cloud platform. The system is capable of transporting packages of up to 5 lbs. across distances of up to 12.5 miles.
"We founded Matternet with the belief that we must create a new layer of transportation, using networks of drones for delivering urgent items on-demand at a fraction of the time, cost and ecological footprint of any other transportation method," says Matternet's CEO, Andreas Raptopoulos. "Our technology has the power to transform healthcare and the world of logistics at large. Today's announcement is bringing us one step closer to this reality."
Going forward, UPS Flight Forward says it has a long-term plan with several milestones:
Expansion of the UPS Flight Forward delivery service to new hospitals and medical campuses around the country;
Rapid build-out of ground-based, detect-and-avoid technologies to verify drone safety while enabling future service expansion;
Construction of a centralized operations control center;
Regular and frequent BVLOS drone flights;
Partnerships with additional drone manufacturers to build new drones with varying cargo capacities; and
Adding new services outside of the healthcare industry, including the transport of special commodities and other regulated goods.
"This is history in the making, and we aren't done yet," comments David Abney, CEO of UPS. "Our technology is opening doors for UPS and solving problems in unique ways for our customers. We will soon announce other steps to build out our infrastructure, expand services for healthcare customers and put drones to new uses in the future."