As part of his innovation agenda for the 115th Congress, U.S. Sen. Orrin Hatch, R-Utah, has noted the importance of advancing the unmanned systems industry in the U.S.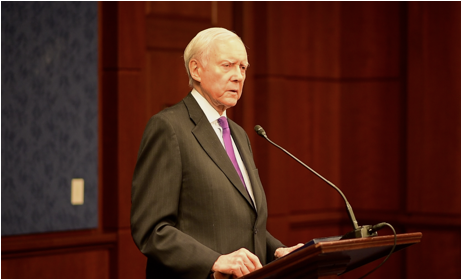 Hatch, who serves as chairman of the Senate Republican High-Tech Task Force, rolled out the agenda during an event today at the U.S. Capitol.
On the subject of working with President Donald Trump on "key tech issues," Hatch said, "As one of the earliest senators to endorse President Trump, I can serve as a bridge between the president and the tech community. I spent nearly an hour in the Oval Office with him last month. Help me help you work with the president to accomplish our shared goals."
In his part of the speech describing "new frontiers in innovation," the senator brought up the Internet of Things and transportation technology, including autonomous vehicles and unmanned aircraft systems (UAS), both of which "have the potential to revolutionize how we get from point A to point B and make deliveries."
"I mention these topics in tandem because they present a similar challenge: How do we create a sound regulatory framework that adequately protects safety and privacy without stifling the tremendous advances we're seeing?" he asked.
"There's no simple path forward on these issues, but one point I believe is clear. It's the same principle that guides our medical profession: First, do no harm. Yes, we must protect safety and privacy, but we also shouldn't rush in. When problems arise, let's address them. But let's not regulate just for the sake of regulating. Let's not smother these emerging technologies while they're yet in infancy," he said.
Hatch then encouraged input from others: "I'd like you to weigh in with me on this subject. These technologies are the wave of the future."
Last year, the senator took action in the drone industry by calling on the Federal Aviation Administration to include "strong industry, government, research and academia" in the agency's UAS advisory committee.