Northland Community & Technical College (NCTC) of Thief River Falls, Minn., has announced a collaboration agreement with Northrop Grumman Corp. as part of the company's continuing support of unmanned aircraft systems (UAS) efforts in the Red River Valley area of North Dakota and Minnesota.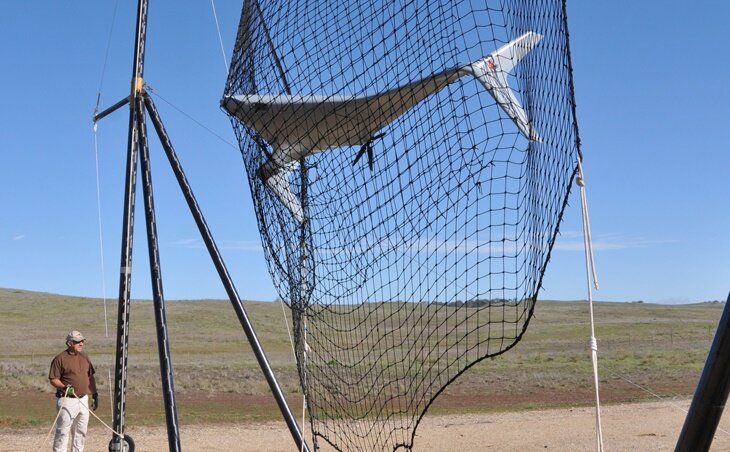 Northrop Grumman will donate the use of the Bat UAS, a medium-altitude, multi-mission aircraft that is runway-independent and fully autonomous. According to NCTV, it's designed to launch from a pneumatic/hydraulic rail launcher and recover into a net recovery system.
The equipment – including the aircraft, flight control, and launch and recovery elements – will be used by NCTC at the aerospace site in its UAS maintenance and training program.
NCTC recently finished up an 18,760-sq.-ft. remodeling project at the aerospace site, located at the Thief River Falls Airport. Included in the facility are new labs focused on non-metallic structure and composites, electronics and avionics, and a new hangar, which has been designed with specialized considerations for housing and operating UAS.
The program trains students on the maintenance and repair of UAS components. According to the college, collaborations like this one with Northrop Grumman allow students access to the technology in order to prepare them for the rapidly evolving UAS workforce.
"Northrop Grumman has been a friend and partner to NCTC since we started working in the UAS industry," comments Curtis Zoller, associate dean of aerospace and agriculture at the college. "The Bat UAS collaboration represents another firm example of ongoing commitments to find innovative solutions to training today's workforce. Northland Aerospace will integrate the system into our current training programs in order to offer the most advanced training possible to our students. Investments made by NCTC and partners like Northrop Grumman in infrastructure and technology over the past years have all been focused on advanced student education. It is all about the students."
In addition, Northrop Grumman is building a new 36,000-sq.-ft. facility at the Grand Sky UAS Business and Aviation Park, located near Grand Forks, N.D. The facility will support research and development, aircrew and maintenance training, operations and mission analysis, and aircraft maintenance in the local region.