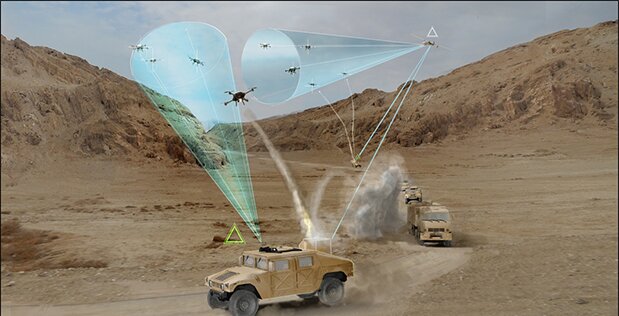 The Defense Advanced Research Projects Agency (DARPA) recently issued a request for information (RFI) to explore ideas and approaches to improve the protection of fixed and mobile ground and naval forces against a variety of threats and tactics posed by adversaries using small unmanned air systems (sUAS).
According to DARPA, the rapid evolution of sUAS technology is fueling the exponential growth of the commercial drone sector and thus is creating new asymmetric threats for warfighters. The agency says sUAS' size and low cost enable novel concepts of employment that present challenges to current defense systems.
In turn, these emerging systems in diverse environments require technology advancements to quickly detect, identify, track and neutralize sUAS while mitigating collateral damage and providing flexibility to operations in multiple mission environments, DARPA explains.
"DARPA is interested in identifying novel, flexible and mobile layered defense systems and component technologies to address this increasingly important issue, as well as conventional threats," says Jean-Charles Ledé, DARPA's program manager. "We're looking for scalable, modular and affordable approaches that could be fielded within the next three to four years and could rapidly evolve with threat and tactical advancements."
DARPA says it will review the RFI responses to assess technology and system relevance, potential performance capability, and technology maturity. Based on this review, DARPA may invite submitters to attend a "mobile force protection" workshop at the agency's offices in Arlington, Va., in late September.
In addition, according to the agency, the information may potentially support the development of new DARPA programs that could enable a layered defense approach to achieving mobile force protection, including counter-unmanned air systems capabilities.
To maximize the pool of proposal concepts, DARPA strongly encourages participation from all capable sources, including – but not limited to – private or public companies, individuals, universities, university-affiliated research centers, not-for-profit research institutions, foreign entities, and U.S. government-sponsored laboratories.
More information can be found here.