Almost exactly two years ago, Amazon CEO Jeff Bezos introduced the world to Amazon Prime Air: deploying unmanned aerial vehicles (UAVs) to deliver consumers the goods they order through the Seattle-based e-retail giant.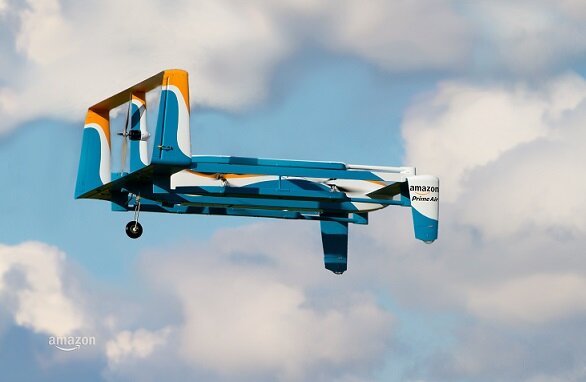 "I know this looks like science fiction; it's not," he told Charlie Rose on CBS' 60 Minutes during a December 2013 show that revealed the inner workings of Amazon and, notably, the premiere of its concept for delivery drones, which would be able to autonomously bring packages weighing under 5 lbs. to consumers in just 30 minutes.
"I don't want anyone to think this is just around the corner. This is years of additional work from this point," Bezos said after he introduced Rose to the octocopters emblazoned with Amazon logos and equipped with bright yellow, package-holding containers. Back then, the UAV industry was still about nine months away from the issuance of commercial exemptions and more than a year away from the proposed rules for small UAVs (with both of these time frames unknown at the time).
Fast forward to December 2015: After two years of research and development in several countries, an experimental airworthiness certificate (an "obsolete" one, however, according to Amazon's vice president of global public policy), and commercial authorization, Amazon Prime Air has introduced a vastly different UAV from the octocopter that had been associated with the service until now.
In a new video describing the aircraft, the company reveals a vertical takeoff and landing (VTOL) UAV that looks more like a mini airplane decorated in bright blue and orange. In fact, the video describes the UAV as a "streamlined and fast airplane" after it takes off vertically up to 400 feet and then cruises horizontally to its destination before landing vertically to drop off a package.
Additionally, according to the video, this particular model can fly up to 15 miles at a time and uses collision-avoidance technology when taking off, flying and landing.
This new video says it offers "a story from the not-too-distant future," where "a miracle of modern technology is dispatched" to quickly bring soccer cleats to a girl – after one cleat has been demolished by the family dog – who needs to get to her game on time.
Via notification on the recipient's tablet, the recipient knows that the cleats are arriving. Then, the VTOL drone flies to the house, scans the ground for any objects in the way, releases the package onto a set delivery zone on the lawn, and takes back off. Amazon reiterates throughout the footage that this is an actual flight, not a simulated flight.
The company notes in its frequently asked questions about the service that the "look and characteristics of the vehicles will evolve over time," and the video echoes that sentiment: "In time, there will be a whole family of Amazon drones – different designs for different environments."
In April, the company received a commercial exemption from the Federal Aviation Administration (FAA) to test "an Amazon-manufactured multi-rotor small UAS that has been described to the FAA in a confidential filing." Last month, Amazon received an amendment to this exemption for the authorization to fly "additional prime test air vehicles" but was denied – for the time being – the OK to fly within 200 feet of anyone not involved in the flights.
"We are testing many different vehicle designs and delivery mechanisms to discover how best to deliver packages in a variety of environments," Amazon explains in its FAQs.
Although the FAA proposed to allow commercial UAV flights only within the line of sight of the operator – clearly a stark contrast from Amazon's proposed autonomous drone flights up to 15 miles away from their origin – Bezos had promised in that December 2013 interview that the system would eventually exist.
"It will work, it will happen and it's going to be a lot of fun," he said.
Still, Amazon explains on its site description, "Putting Prime Air into service will take some time, but we will deploy when we have the regulatory support needed to realize our vision."