As the new regulations (Part 107) for commercial operations of small unmanned aircraft systems (UAS) take effect today, the UAS program on Kansas State University's Polytechnic Campus is joining a research effort to assist the Federal Aviation Administration (FAA) with potential next steps in the rulemaking process.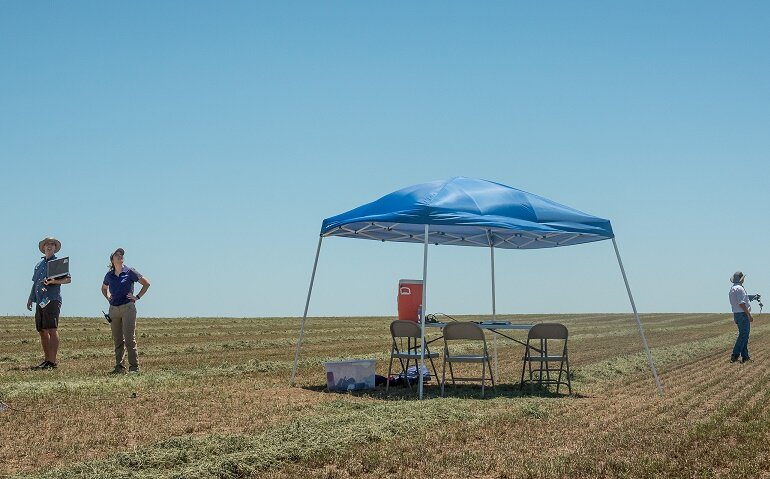 Kansas State Polytechnic is collaborating with PrecisionHawk to determine the risk assessment of extended visual line of sight (EVLOS) operations of UAS. PrecisionHawk is a part of the FAA's Pathfinder program, in which industry partners explore incremental expansion of UAS operations in national airspace. PrecisionHawk is specifically tasked with examining UAS flights outside of the pilot's direct vision in rural areas for crop monitoring in precision agriculture.
Under a new Part 107 waiver from the FAA, PrecisionHawk can now fly drones beyond its line of sight during commercial operations. Also under the waiver, PrecisionHawk is approved to train those who want to offer these EVLOS flights as a service. The company says the waiver was granted based on over a year's worth of testing under the Pathfinder program. Under Pathfinder Phase 1, PrecisionHawk determined that the extension in range offered by EVLOS operations supports a significant expansion in the area of operation – possibly up to 12 times what is achievable within line of sight.
"Kansas State Polytechnic is honored to work alongside PrecisionHawk on research that we believe is crucial to the progression of Part 107 guidelines and moving the UAS industry in the direction it needs to go," says Kurt Carraway, executive director of the school's UAS program. "Being able to fly with extended visual line of sight could greatly increase the efficiency and productivity of UAS operations; however, it's important to ensure this can be done safely and routinely, and our collaboration will provide the FAA with meaningful data to make that determination."
After establishing a working definition for operational EVLOS, including an initial measured distance in Pathfinder phase one, PrecisionHawk connected with Kansas State Polytechnic to collaborate on a series of controlled field experiments involving volunteers with varying levels of flight experience. The studies are aimed at calculating an achievable level of safety for drone pilot response time and choice of action when confronted by a manned intruder.
During the series of experiments conducted on the Knopf farm in central Kansas, volunteers are placed at different positions on the acreage with computers that simulate UAS flight operations in EVLOS. Participants – with experience levels ranging from amateur to hobbyist to those with FAA manned pilot certificates – maintain awareness of the airspace their simulated UAS is operating in, and when a real manned aircraft flies overhead, they must demonstrate on the computer how they would prevent an air-to-air collision.
"Under Part 107, commercial operators are limited to flying with visual line of sight only, and other than a knowledge test, there are no training requirements for pilots," explains Allison Ferguson, director of airspace research for PrecisionHawk. "The final results of our extended visual line of sight research, which are generalizable to multiple classes of small UAS, will provide a necessary dataset for both regulators and industry stakeholders to establish any required future training, expand Part 107 and most importantly, continue safe operations in the national airspace."
This phase of the EVLOS research is expected to be complete by the end of the year; a third stage of the project will start up in 2017. As results become available, they will be provided to the FAA.