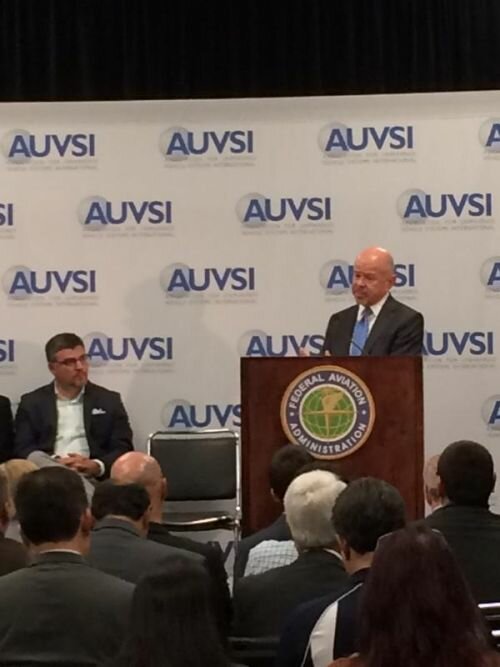 To explore unmanned aircraft system operations not addressed in its proposed rules, the Federal Aviation Administration (FAA) has initiated the Pathfinder Program, a partnership with three different companies in the industry.
The FAA will work with PrecisionHawk, CNN and BNSF Railroad on three focus areas, respectively: extended visual line-of-sight (VLOS) operations in rural areas, VLOS operations in urban areas and beyond-VLOS operations in rural/isolated areas. The three companies reached out to the FAA to work on research continuing to expand use of UAS in the nation's airspace.
PrecisionHawk will explore, using its Lancaster platform, how UAS flights outside the pilot's direct vision might allow greater UAS use for crop monitoring in precision agriculture operations. The North Carolina-based company will also test its Low Altitude Tracking & Avoidance System (LATAS), a traffic-management system for UAS.
PrecisionHawk will begin testing in coordination with the six designated UAS test sites and provide the FAA with research-and-development test flights and test data to assist with regulations around UAS integration.
"As we seek to build the most competitive drone regulatory structure in the world, it is vital that the industry players present solutions and use cases to move integration efforts forward," says Ernest Earon, president and co-founder of PrecisionHawk. "Through this unique partnership, PrecisionHawk will be representing the commercial use of UAVs to benefit the industry as a whole."
CNN will be looking at how UAS might be safely used for newsgathering in populated areas, and BNSF Railroad will explore command-and-control challenges of using UAS to inspect rail system infrastructure. CNN and the FAA already have been working together through a Cooperative Research and Development Agreement (CRDA), and BNSF has a draft CRDA that is nearly complete.
Michael Huerta, FAA administrator, first announced the program at a press conference at the Association for Unmanned Vehicle Systems International's (AUVSI) Unmanned Systems 2015 in Atlanta. "This new initiative involving three leading U.S. companies will help us anticipate and address the needs of the evolving UAS industry," he said.
Brian Wynne, president and CEO of AUVSI, comments, "We're pleased to see the FAA recognize the need to keep the U.S. competitive with other countries who are also interested in this technology. If the next big leaps in UAS innovation are going to occur inside the U.S., we need to lay the groundwork now for more expansive and transformational operations, including beyond line of sight."
The Small UAV Coalition is commending the FAA for the initiative. "The coalition looks at the Pathfinder Program as an important and necessary first step," according to Michael Drobac, executive director. "We are glad that the FAA has recognized the innovation, leadership and expertise of PrecisionHawk, CNN, and BNSF. However, we hope that the FAA continues to expand its partnerships with other leaders in this space, both large and small.
"Moreover, we call on the FAA to include the research that comes from these partnerships in the final sUAS rule so that operations beyond line of sight, over populated areas and during the nighttime may be authorized during this rulemaking instead of the next."
Douglas Johnson, vice president of technology policy at the Consumer Electronics Association, adds, "We're glad the FAA recognizes the vast potential for UAS innovations and applications by initiating this research. And we're equally excited that the administration itself believes this testing could result in FAA-approved, beyond-line-of-sight operations within the next few years."
Chris Polychron, president of the National Association of Realtors (NAR), believes that the program "could lead to important benefits in the real estate industry, particularly for agents who wish to market rural and large commercial properties." He adds that NAR will continue to "advocate for federal regulations that allow for the real estate industry's safe commercial use of UAV technology while also protecting privacy rights.'
"Government has some the best and brightest minds in aviation, but we can't operate in a vacuum," says Anthony Foxx, U.S. Transportation secretary. "This is a big job, and we'll get to our goal of safe, widespread UAS integration more quickly by leveraging the resources and expertise of the industry."