The Top 15 Drone Training Colleges in the U.S.
in Content > Business Operations

SuccessfulStudent.org, an online source for students to research colleges and fields of study, has published a
ranking
of the "15 Best Drone Training Colleges in America."
The group says it considered "academic reputation, hands-on drone training in piloting/engineering, variety of course and accreditation."
SuccessfulStudent.org's rankings, in order, are as follows:
1. Embry-Riddle Aeronautical University (Daytona Beach, Fla.)
2. Oklahoma State University (Stillwater, Okla.)
3. Indiana State University (Terre Haute, Ind.)
4. Kansas State University, Salina (Salina, Kan.)
5. The University of North Dakota (Grand Forks, N.D.)
6. Liberty University (Lynchburg, Va.)
7. Troy University (Troy, Ala.)
8. Lewis University (Romeoville, Ill.)
9. University of Louisiana at Monroe (Monroe, La.)
10. Northwestern Michigan College (Traverse City, Mich.)
11. The University of Nevada, Reno (Reno, Nev.)
12. Middle Tennessee State University (Murfreesboro, Tenn.)
13. Unmanned Vehicle University (Phoenix)
14. Spartan College of Aeronautics and Technology (Tula, Okla.)
15. Educational organization SkyOp's partners: Monroe Community College, Corporate College (Rochester, N.Y.) and Mohawk Valley Community College, Center for Corporate and Community Education (Utica, N.Y.)
No.1-ranked Embry-Riddle, No. 4-ranked Kansas State and No.5-ranked University of North Dakota are all members of the Alliance for System Safety of UAS through Research Excellence (ASSURE), which
heads
the Federal Aviation Administration's Center of Excellence for Unmanned Aircraft Systems.
No.9-ranked University of Louisiana at Monroe (ULM)
says
of SuccessfulStudent.org's recognition, "ULM continues to explore new and unique programs that will provide opportunities for our students and enhance our region," according to Dr. Nick J. Bruno, university president. "This is but one example of that vision as we move forward."
The full ranking can be found
here
.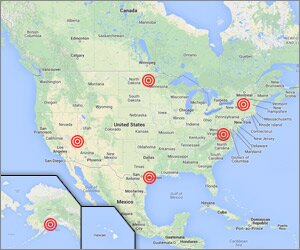 Federal, state and local wildfire managers are urging the public not to fly unmanned aircraft systems (UAS) within or near wildfires in order to [...]
Read More
Dronecode, a nonprofit organization developing a common, shared, open-source platform for unmanned aerial vehicles (UAVs), has announced six new commercial members and several nonprofit [...]
Read More
Two years after Calgary and southern parts of Alberta were rocked by record-setting floods, researchers at the University of Calgary and the University of [...]
Read More