Kansas State University's Polytechnic Campus is expanding its unmanned aircraft systems program (UAS) to now include a weeklong course centered on the Federal Aviation Administration's (FAA) new Part 107 regulations.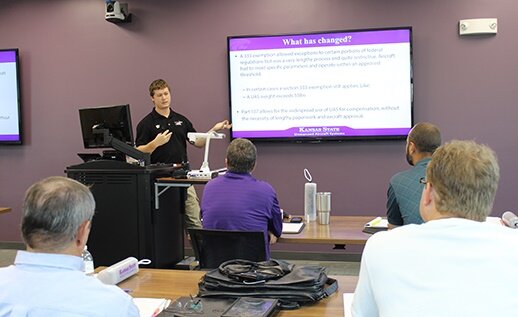 The course, designed to prepare professionals for remote pilot in command certification, will be held from Monday, Sept. 19, through Friday, Sept. 23. It will focus on proficiency in FAA guidelines, flight safety and the development of standard operating procedures.
"Under the FAA's Part 107 mandate, anyone who wants to fly for commercial operations without obtaining a manned certification must demonstrate, through a written test, the ability to safely conduct those operations; however, much of the material in the test is complex and covers topics those outside the aviation industry might not understand," explains Kurt Carraway, executive director of Kansas State Polytechnic's UAS program. "We believe there is validity in offering a personalized experience where interested UAS operators can connect with our program experts and have their questions answered immediately. It is also a tremendous opportunity to answer questions about complex airspace and other subject matters that can be confusing to new aviators."
The cost of the commercial pilot training course is $1,400 for individuals; a discounted rate will be offered for companies sending multiple attendees. The cost of the FAA exam is an additional charge, notes the university.
More information on the course can be found here.