Elbit Systems of America, the Fort Worth, Texas-based subsidiary of Elbit Systems Ltd., says that it hosted an unmanned aircraft systems (UAS) field day today – along with local partners – at the Hillsboro Regional Airport to highlight its recent Hermes 450 flights over North Dakota.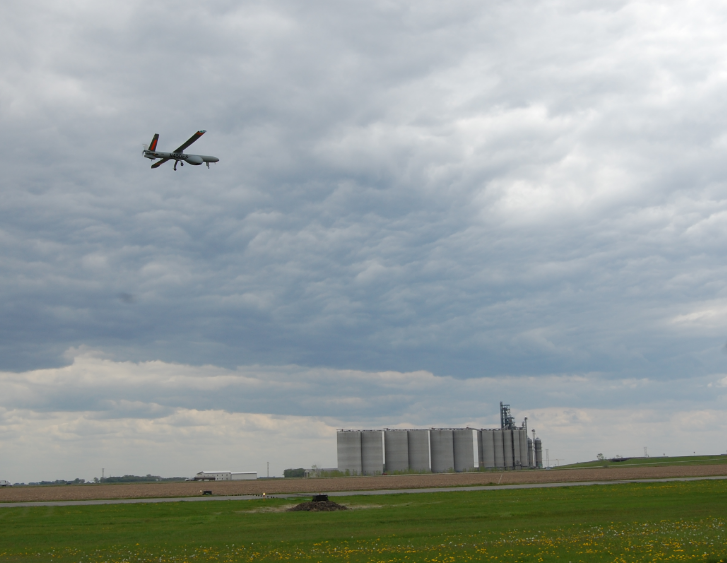 According to Elbit, U.S. Sen. John Hoeven, R-N.D., and U.S. Rep. Kevin Cramer, R-N.D., were in attendance, as well as Lt. Gov. Drew Wrigley, who served as Master of Ceremonies.
"North Dakota has been called the 'Silicon Valley of Drones,' and it is our honor to bring the Hermes 450 to Traill County," says Raanan Horowitz, Elbit Systems of America's president and CEO. "Leveraging the experience of our parent company with the commercial insights of our partners, we bring advanced technology to the farmland, demonstrating effective approaches for data collection."
Equipped with advanced sensors and high-resolution cameras, such as the Vision Map A3 Edge and the Elbit Systems Compass EO/IR real-time sensor, the Hermes 450 is capable of covering 40,000 acres in one hour and can remain in flight for 17 hours, states the company.
As previously reported, Elbit Systems of America says it has been operating from the Hillsboro Regional Airport for the last four months, having flown multiple precision agriculture flights. In collaboration with North Dakota State University and the Northern Plains UAS Test Site, Elbit Systems of America has been working with local farmers to gather and analyze data for crop management improvement, increasing efficiency and greater yield.
"Imagery from the Hermes 450 can help farmers understand and monitor changes in field variability throughout the season," says Sarah Lovas of Lovas Farms. "This knowledge can help us better focus our crop scouting efforts and our in-season fertilizer applications, which can save of us time and make our applications more efficient."
Beyond precision agriculture, Elbit Systems of America is partnering with Xcel Energy, the University of North Dakota and others to use the large-scale UAS in assessing damage to utility infrastructure following storms, tornadoes and other natural disasters. The Xcel Energy project began in July and will continue for one year, aiming to reduce utility downtime while increasing safety and efficiency.
"In a natural disaster, drone technology will provide valuable damage assessment data to help Xcel Energy mobilize crews, materials and equipment to speed recovery efforts," says Michael Lamb, vice president of Xcel Energy's operating services and enterprise transformation office.