In the wake of flooding in the state, California's Menlo Park Fire Protection District has been putting its unmanned aircraft systems (UAS) to good use, including for the Oroville Dam situation in Northern California.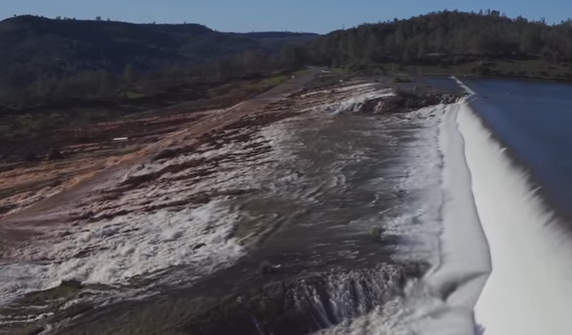 According to a report from KRON 4, a 14-person crew (as well as a fire mechanic) from the fire district has been dispatched to Oroville to help prepare for potential flooding in the city, whose residents must evacuate. This crew involves several drone pilots as part of the fire district's UAS program; the UAS are expected to be deployed for surveying big areas.
Gov. Jerry Brown issued an emergency order to bolster the state's response to the threat of flooding at the Oroville Dam's auxiliary spillway and support subsequent local evacuations, says a press release from his office.
During January and February, three atmospheric river storm systems struck the state and brought massive amounts of rainfall that inundated lakes, rivers and streams – resulting in widespread flooding, Brown's release explains. On Feb. 7, the spillway at Lake Oroville Dam in Butte County began to erode, causing officials to begin using the auxiliary emergency spillway on Feb. 11. However, the emergency spillway is in danger of failing, which could cause widespread and severe flooding.
As explained in a recent press release from the Menlo Park Fire Protection District, the crew's drone program currently has four DJI aircraft – including some equipped with infrared cameras – in its arsenal.
"We have four DJI Drone platforms now – from small to larger craft with sophisticated infrared cameras that can detect thermal signatures needed for fires," states Fire Chief Harold Schapelhouman, who has been with the fire district since 1981. "We are currently carrying the drone on our battalion command vehicle, but our next goal is to carry them on a variety of first-response units and eventually move toward an aerial port concept that also supports autonomy."
In recent weeks, the drone team has been flying what it calls a "variety of interesting and challenging missions," including a water-rescue response on the San Francisco Bay and a multi-day search for a missing kayaker in the South Bay.
Last week, Captains Tony Eggimann and Chris Dennebaum on Patrol 77 kept a close eye on San Francisquito Creek as it flirted with flooding at an underpass in East Palo Alto. The two captains are founding members of the district's drone program, the press release says.
The California Department of Water Resources, which adds that drones will also be deployed to help monitor the spillway continuously, has been releasing to the public its own UAS-captured footage of the dam and surrounding area.
Front photo is a screenshot from the California Department of Water Resources' YouTube video, featuring footage of the dam from Feb. 11 at 4 .pm.