In conjunction with long-standing partner Civil Air Patrol (CAP), the Academy of Model Aeronautics (AMA) is now offering small unmanned aircraft system (sUAS) ground school, powered by Fly Robotics.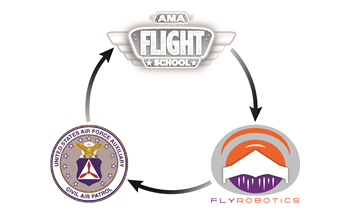 AMA, headquartered in Muncie, Ind., says it has been working with CAP for many years to provide youth memberships and opportunities to cadets interested in earning aviation-related experience and credits.
The new arrangement will provide sUAS ground school for all cadets and mentors through 2017. The course will teach them how to safely operate sUAS, explains AMA.
"Our partnership with CAP has allowed us to provide model aviation education to young cadets who could become tomorrow's aviators, engineers, mechanics, etc.," comments Bill Pritchett, AMA's education director. "It has been a privilege to work with the leaders of CAP to build this new agreement. By providing ground school to these cadets, we are providing a fun avenue to learn about aviation and the many opportunities it provides."