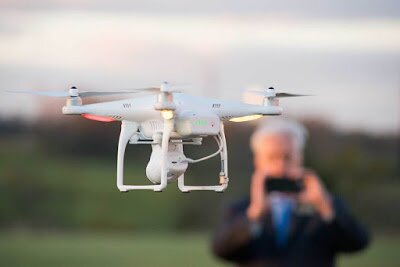 Virginia's Germanna Community College (GCC) says it will begin using drones to help a local company monitor progress at Mitchells Quarry in Culpeper County and will soon begin more extensive drone training for students.
According to Ben Sherman, a Germanna Center for Workforce business and career coordinator at the GCC Daniel Technology Center in Culpeper, the drones will conduct aerial photography to make a 3D point cloud for modeling progress at the quarry for Cedar Mountain Stone Corp.
The goal will be to determine the amount of stone removed – which will allow Cedar Mountain to more closely monitor the amount of material being extracted from and ultimately sold by the quarry. The first flyover, on a date to be determined, will take place during a blast at the quarry.
This project will be part of a new program focusing on drone training for commercial applications at the GCC Center for Workforce program at the Daniel Technology Center. Students will learn how to maintain and fly drones and how the actual programming works – i.e., how to download information and process it.
Germanna says it has already been providing classes primarily for drone hobbyists, including basic flight training, and even teaching middle school students to build their own drones using a 3D printer.
Sherman says Germanna's Center for Workforce is now getting into "business and construction applications" and is prepared to help local businesses navigate evolving federal and state drone regulations.