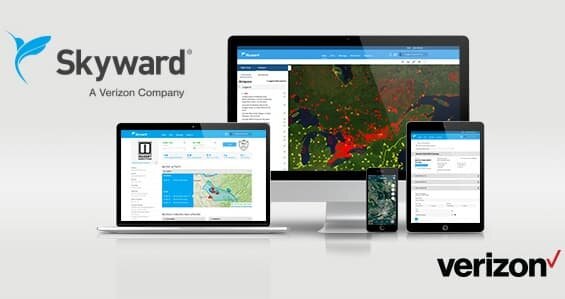 Some big M&A action is happening in the commercial drone space: Skyward, a Portland, Ore.-based provider of drone operations management, has been acquired by Verizon.
Verizon Communications Inc., which is headquartered in New York City, says the new acquisition builds on the company's strategy to drive innovation and adoption for Internet of Things (IoT) services in high-growth markets. Now, Skyward is bringing drone operations management to the Verizon IoT portfolio.
Through the new acquisition, says Verizon, businesses small and large will now have a single source for integrating, managing and wirelessly connecting their drone operations – in turn, linking all the people, projects and equipment involved into one clear and efficient workflow. This is designed to help developers and businesses create and manage a range of services backed by Verizon's mobile private network, secure cloud interconnect and data analytics capabilities.
Terms of the transaction have not been disclosed. GCA Advisors LLC acted as financial advisor to Skyward, and Perkins Coie LLP acted as legal advisor.
"Last quarter we announced our strategy to drive innovation and widespread adoption for in-flight wireless connectivity through our Airborne LTE Operations initiative, a new service to simplify certification and connectivity of wireless drones," says Mike Lanman, senior vice president of enterprise products and IoT at Verizon.
"This acquisition is a natural progression of our core focus on operating in innovative, high-growth markets – leveraging our network, scale, fleet management, device management, data analytics, and security-enablement capabilities and services to simplify the drone industry and help support the adoption of IoT," he continues.
Verizon Ventures, the company's venture capital division, previously brought Skyward in as a portfolio company and was the first wireless service provider to become a member of the Small UAV Coalition. In 2016, revenue from Verizon's IoT business approached $1 billion, says the telecommunications giant.
"Drones are becoming an essential tool for improving business processes at large companies, but scalability has been a challenge," notes Jonathan Evans, Skyward's founder and CEO. "Skyward's drone operations management platform combined with Verizon's network, reliability, scale and expertise in delivering enterprise solutions will allow organizations to efficiently and safely scale drones across multiple divisions and hundreds of use cases."