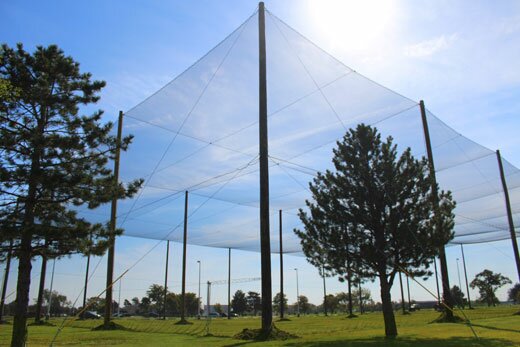 Kansas State University Salina and industry partner Westar Energy, an electric utility company in Topeka, have collaborated on a new outdoor flight facility for unmanned aircraft systems (UAS) education, training and research.
The UAS Pavilion, constructed on K-State Salina's campus, is one of the largest enclosed unmanned flight facilities in the nation, according to the university.
Measuring 300 feet long, 200 feet wide and 50 feet tall, the structure will enable staff and students in K-State Salina's UAS program to conduct flight training and research within steps of their lab space. Also, the structure connects outside industries to an arena for company training and research.
Since the UAS program's inception in 2009, all UAS flight activities have had to operate off-site because of the campus's proximity to the Salina Regional Airport. However, the new structure will ensure UAS students and staff can avoid time and logistical challenges by flying on-site, says K-State Salina.
With the structure's being contained but not completely closed off to outdoor elements, the facility does not block GPS signals on unmanned aircraft and allows flight missions to be conducted in various weather conditions.
All of the custom-fabricated netting panels, on all sides and across the top of the pavilion, were created and installed by Golf Range Netting. The enclosure was designed, engineered and developed by Mark Ramsay, CEO of the company, which the university contacted for the job. Westar Energy donated the 25 wooden poles and installed them under the guidance and instruction of Golf Range Netting.
Westar Energy and the university's UAS program have been collaborating on applied research and training related to the development of UAS technology in and for the electric power energy sector, primarily consisting of infrastructure inspection.
K-State Salina is the second university in the nation to offer a UAS bachelor's degree, which began in 2011. Since then, the program has nearly doubled its enrollment every year. The initial degree focused on flight and operations, and earlier this fall, the campus added a second bachelor's degree in UAS design and integration. K-State Salina says it was also the first entity in the U.S. to be awarded statewide access for unmanned flight operations by the Federal Aviation Administration (FAA) and is a member of the FAA Center of Excellence for UAS.
An official ribbon-cutting ceremony for the pavilion has been planned in conjunction with Westar Energy at 3:30 p.m. on Wed., Oct. 21. Both the media and the public are invited to attend.