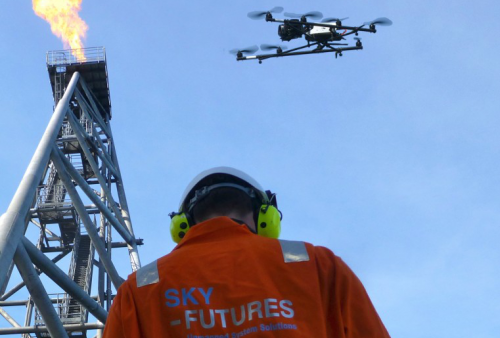 Sky-Futures, a global provider of drone-based industrial inspection solutions, has launched what it calls "Drone-To-Go," a full-service package for enterprises looking to start an unmanned aircraft systems (UAS) program.
According to the company, the solution provides not only the physical aircraft but also pilot training, regulatory support, and software and services to ensure a company is ready to deploy UAS.
"We're offering both the strategy and the capability to roll out a program in less than three months, rather than the 12-18 months minimum of going it alone, which entails a lot more cost," explains James Harrison, CEO of Sky-Futures. "The drones marketplace is still new, and if businesses are going to reap the radical cost and efficiency benefits of drones, they need more than the best hardware and software; they also need advice and guidance to embark on the right strategy."
Backed by Japan-based Mitsui & Co. Ltd., Sky-Futures has offices in both Houston and Middlesex in the U.K. Its clients include Shell, ENI, Amey, Costain, Lloyd's Register and Arqiva.
"We believe drones are a disruptive technology that will profoundly improve the operations, safety and cost-effectiveness of major business organizations around the world," adds Harrison. "We see ourselves as a specialist company able to advise and guide in that process, offering expertise and assets that will fundamentally change the way they operate. Our new Drone-To-Go solution is a perfect example of that approach."